95th birthday Party for Frank Dugan
49 family members, relatives, friends and neighbors came by the fellowship hall at McKendree Methodist Church on Saturday Nov 26, 2011 to celebrate the 95th birthday of Frank Dugan (coming up on Nov 30). 3 out of the 4 children were able to attend. Tom was on a bus trip to NY, but BZ represented his side of the family well by preparing are huge feast for us to enjoy. A good time was had by all -- even though the Budkeyes were not able to continue their win streak against Michigan on this afternoon (the allegiances of this crowd should be obvious from the photos).
Thumbnail images only. Contact me if you want a higher resolution image.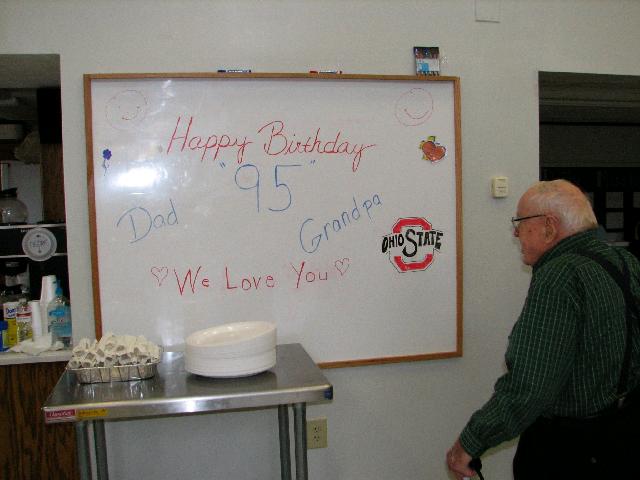 Dad inspecting the whiteboard announcing the purpose for the Gathering.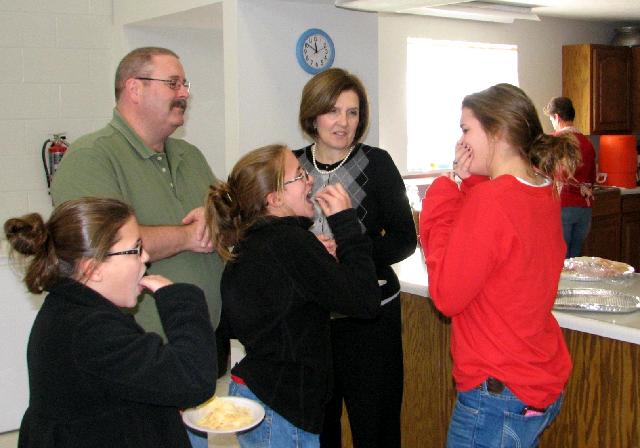 Jim Kinney and his girls with Peggy. Not sure what they were eating.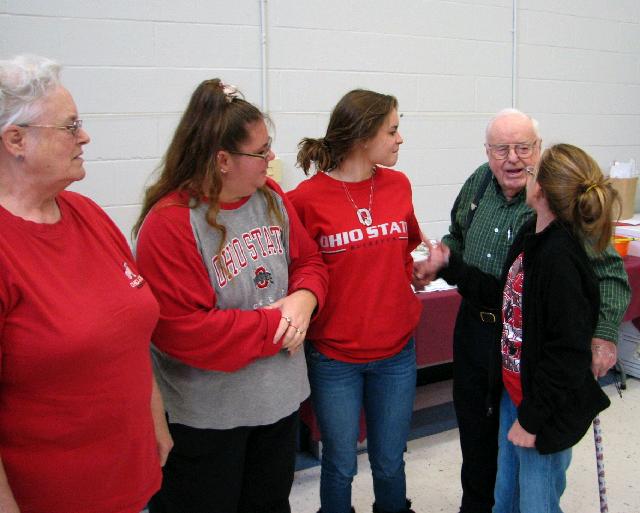 Karen's family greeting the birthday boy. Karen, Jeri, Emily, and Macey.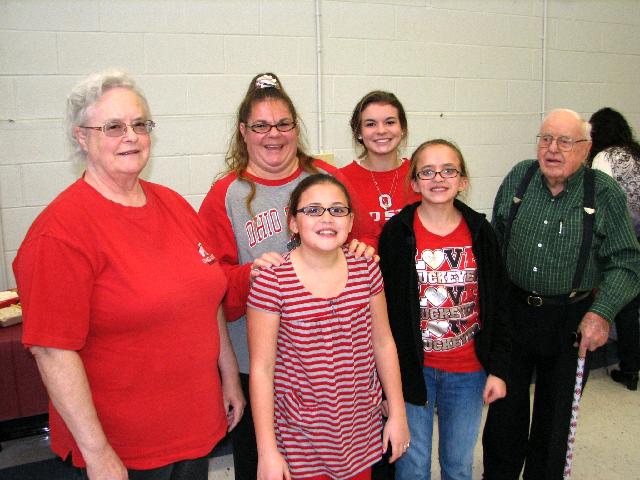 The Kinney girls and Dad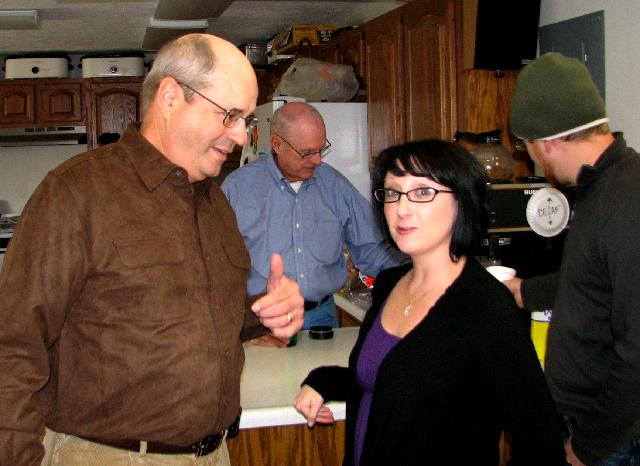 Jim Dugan greeting Meredith Dugan. David Kinney getting a cup of coffee in the background. Greg Dugan with the knit cap.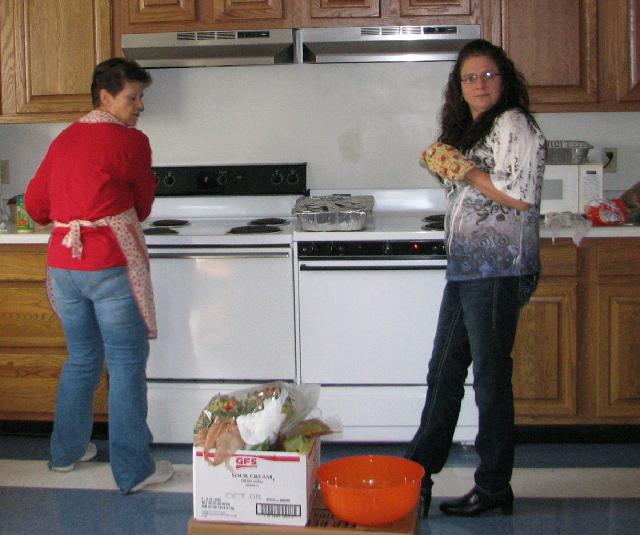 BZ Dugan and Melissa Bachtel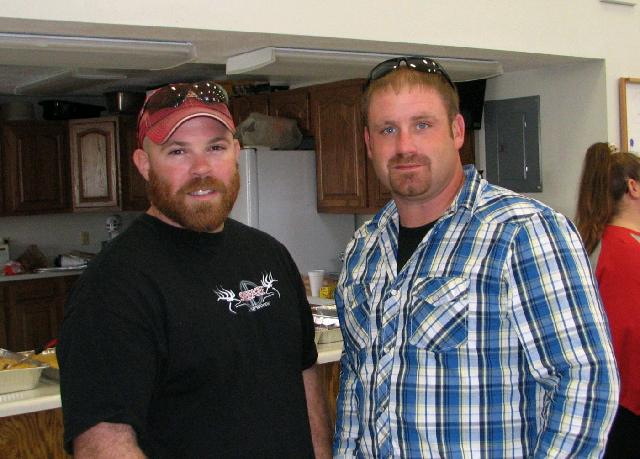 Old high school pals (now approaching 30!) Clint Riley and Zach Dugan.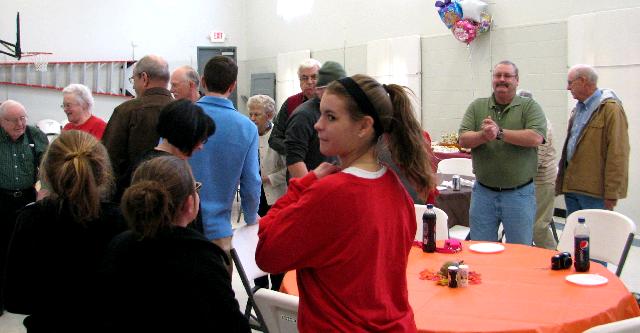 View of the crowd assembled for the birthday celebration. In background are Carlos and Betty Hancher. Jim and David Kinney.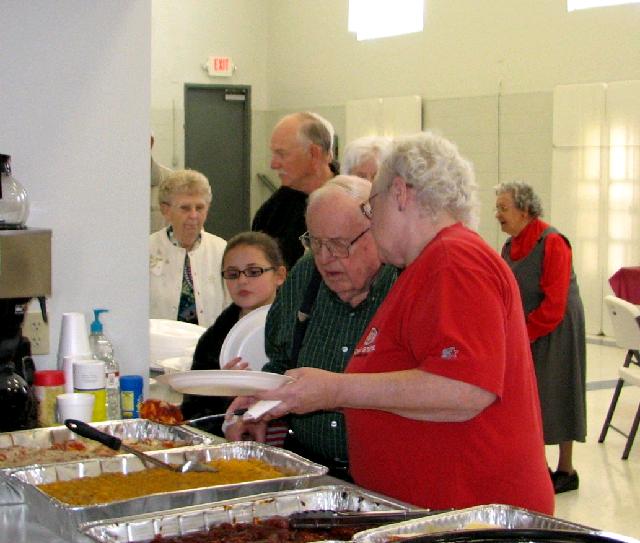 Karen helping Dad decide what to eat while Riley Kinney looks on.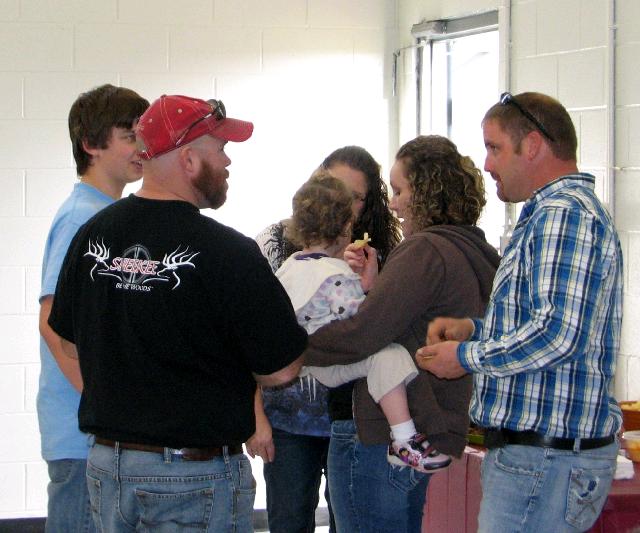 The baby, Reagan Riley, seems to be the center of attention. Cole Bachtel, Clint Riley, Reagan, Suzie Riley, and Zach Dugan. Melissa Bachtel in the background.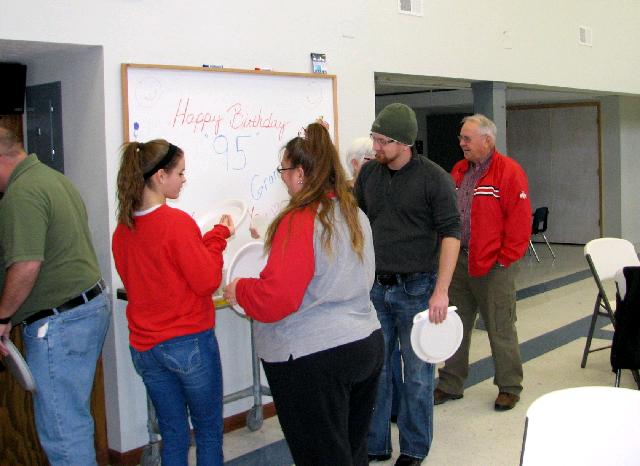 Waiting in line for food. Jim Kinney, Emily Kinney, Jeri Kinney, Greg Dugan, Jane Brown (partially hidden), Merle Gladden.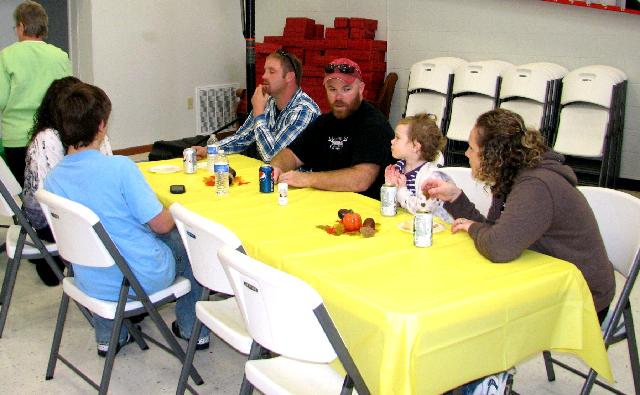 Zach Dugan, Clint Riley and family -- Reagan and Suzie. Melissa and Cole Bachtel with backs to the camera. Cheryl Rambo in background.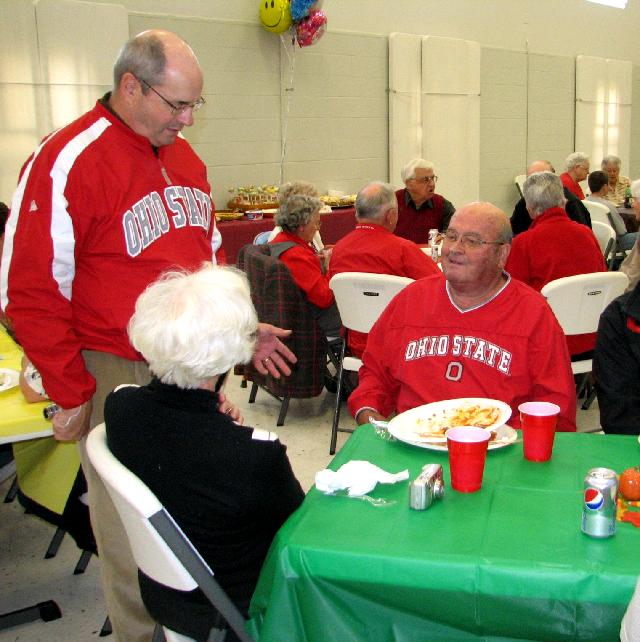 Jim discussing matters with Don and Sheila Graham. Could it be they are Buckeye fans? Some of the folks in the background: Martha Porter, the Hanchers, the Rosses, and the Gladdens. At the far table to the right wiht Karen is Margaret McCormick, wife of Dad's cousin Gene McCormick.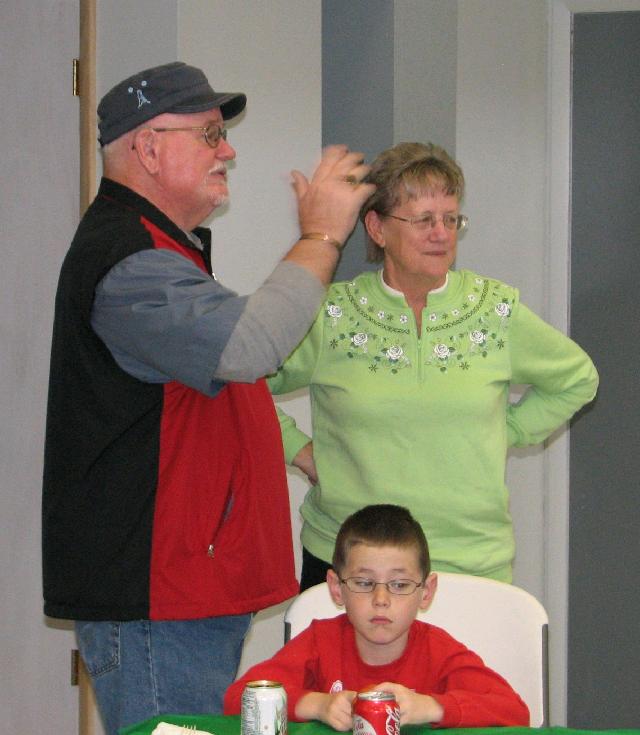 Our cousins, and Dad's nephew and niece, John Long and Cheryl Long Rambo. Rogan Brown seated at the table (he came with cousin Jane McCormick Brown who is his grandmother)..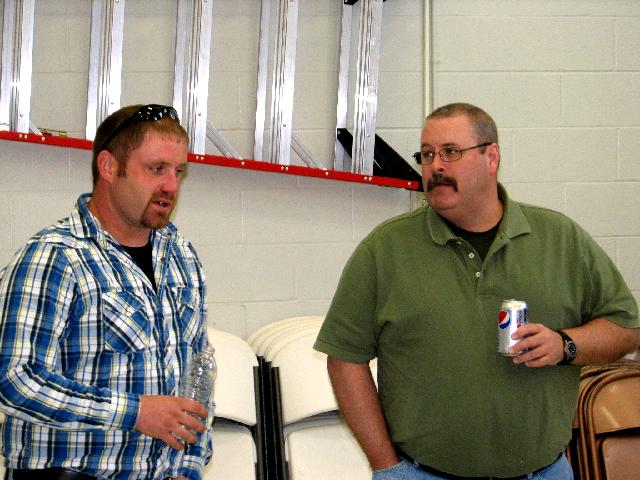 Zach Dugan and Jim Kinney in serious conversation.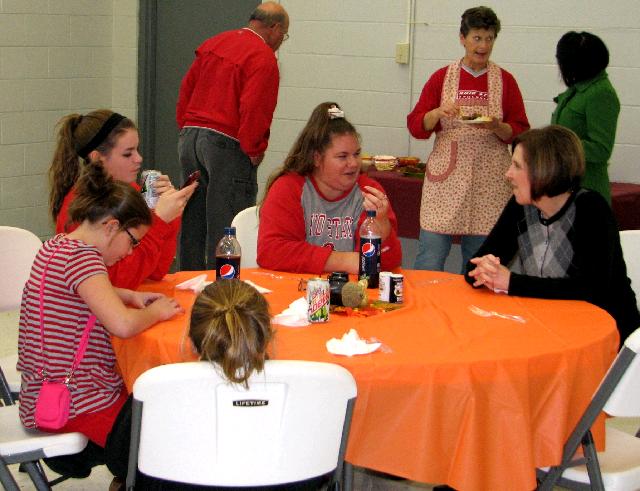 The Kinney girls with Peggy. In the background are Don Graham peering over the snacks, BZ Dugan and Meredith Dugan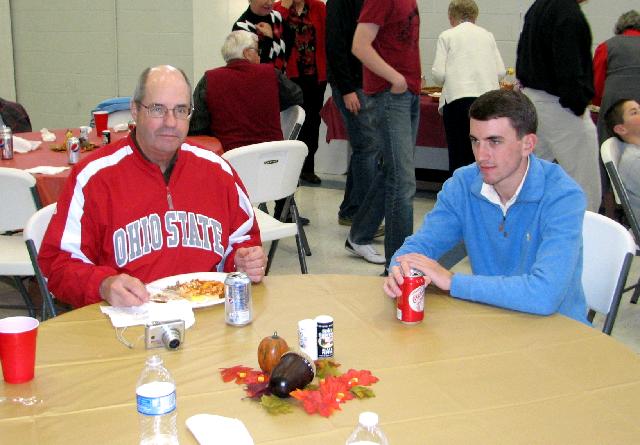 Jim and Nathan Dugan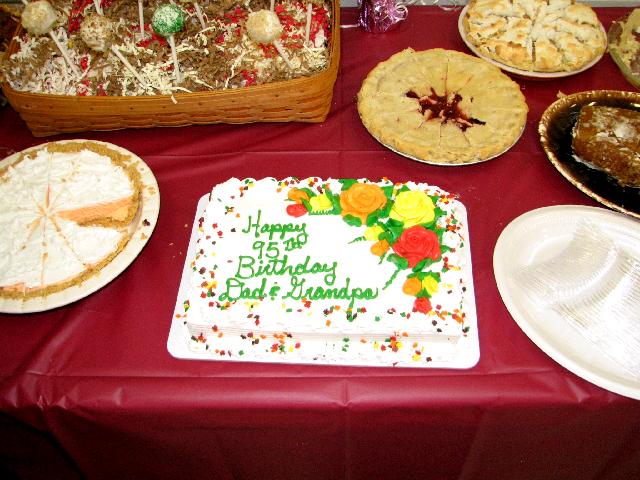 Desserts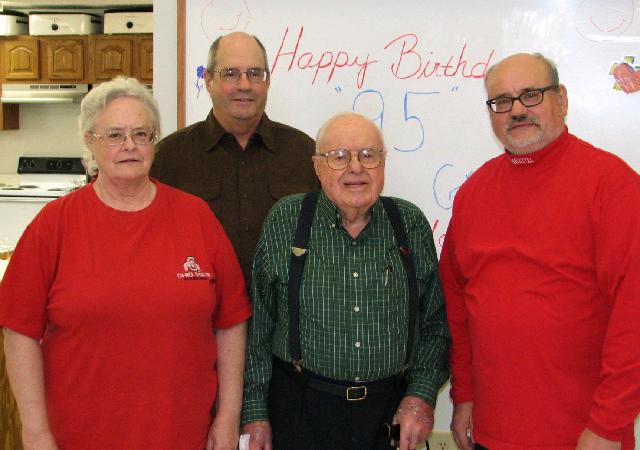 Karen, Jim, Dad and Roger (Tom was working)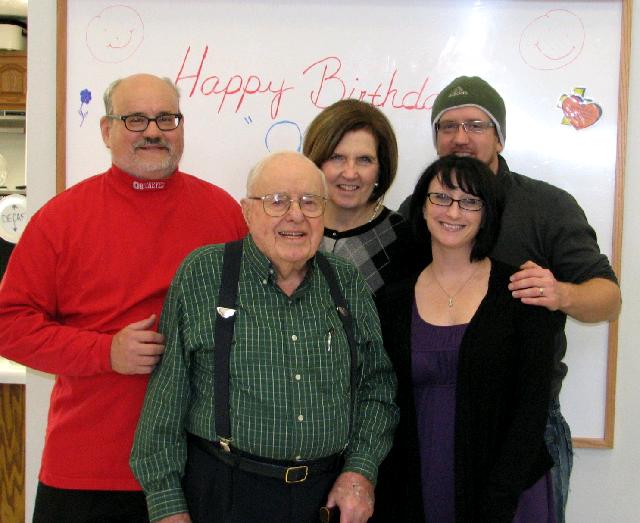 Roger's family that was present: Roger, Dad, Peggy, Greg and Meredith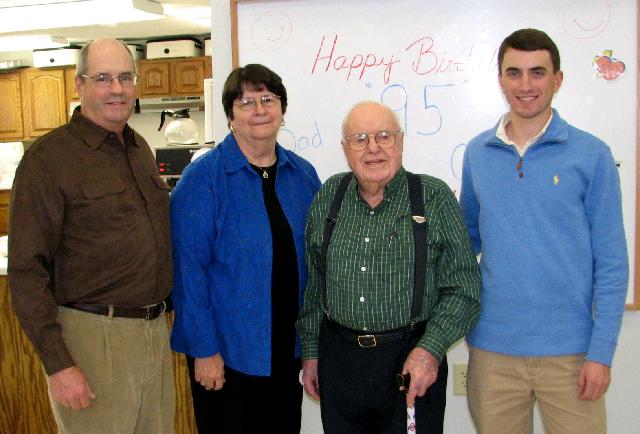 Jim's family: Jim, Susan, Dad, and Nathan.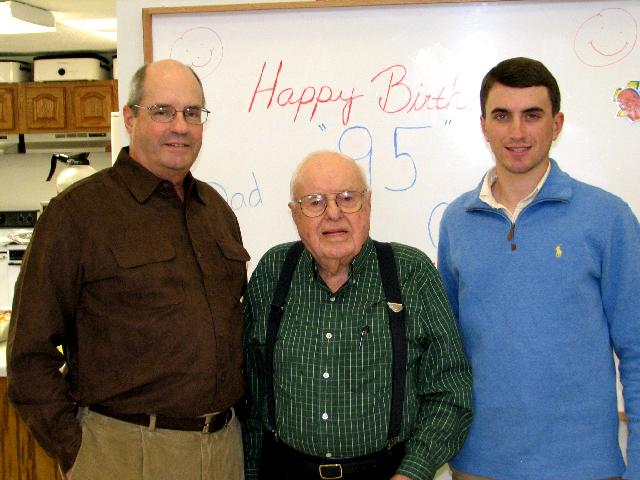 Jim and Nathan with Dad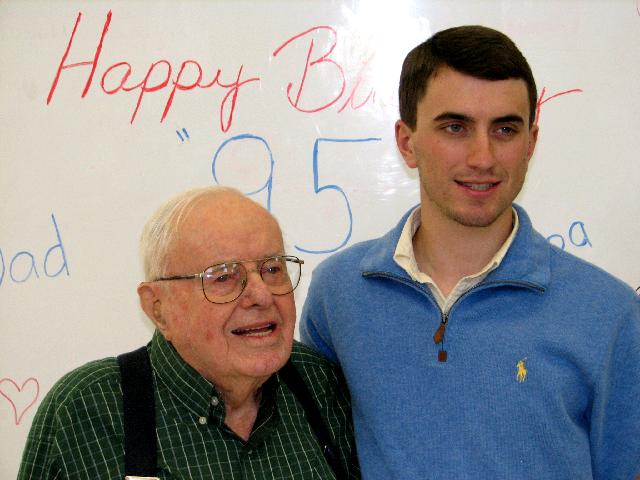 The youngest grandchild Nathan with his Grandpa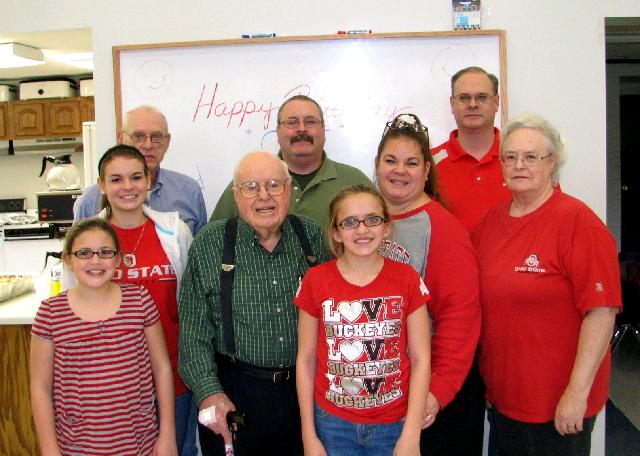 Karen's family: Riley, Emily, David, Dad, Jim, Macey, Jeri, Steve, Karen.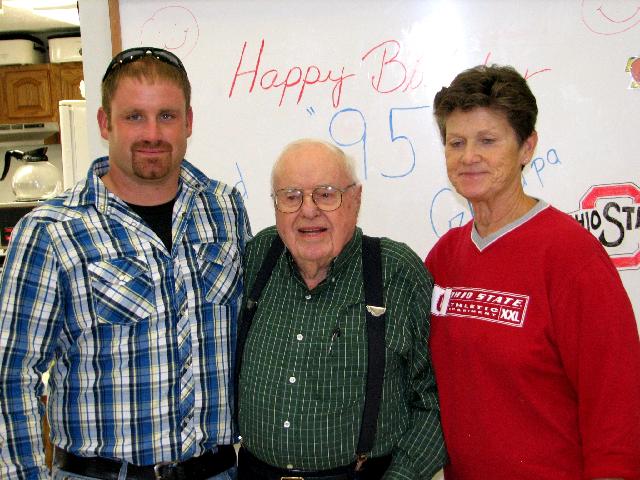 Tom's family that was present: Zach, Dad, BZ (Tom absent on a bus trip)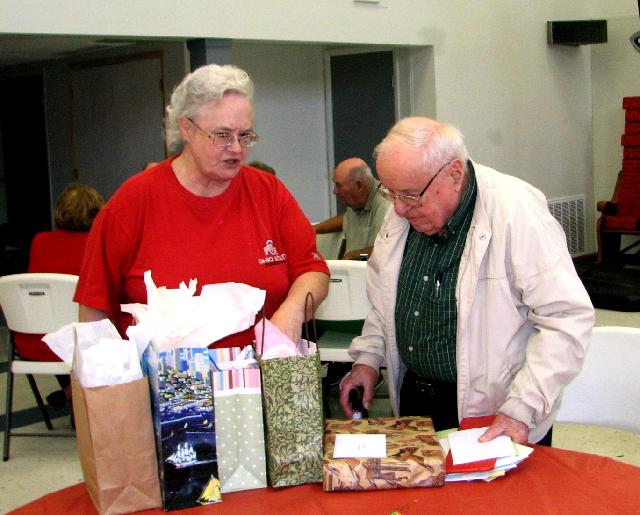 Starting to inspect gifts

checking out a gift

Reading one of the numerous cards under the supervision of Karen and Riley. Dave Rambo in the background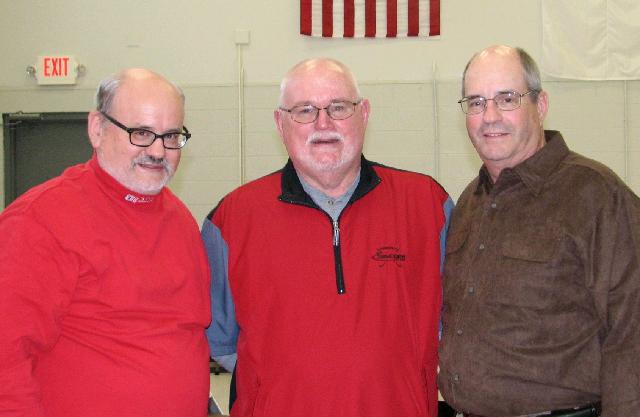 The bald-headed cousins club.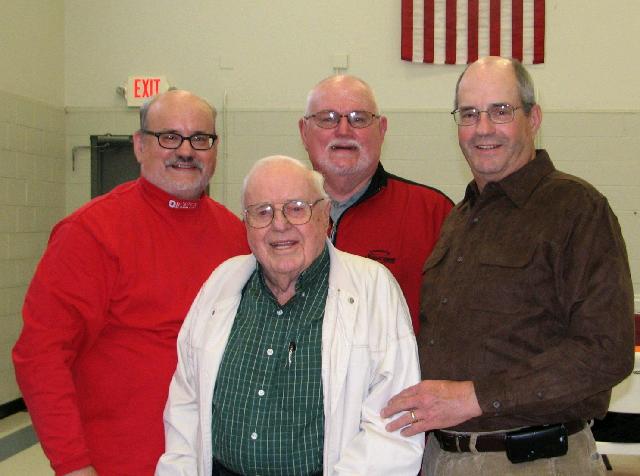 Cousins Roger Dugan, John Long and Jim Dugan with Dad. Note the distinctive hairstyles!