OFFORD Roots
No. 2, Web Version, Spring 2000
---
Roger C. Dugan, Editor, 344 Sweetgum Dr, Knoxville, TN 37934
---
Health, Heredity, and other Stuff
When I started this endeavor one weekend last summer while we were getting ready for the wedding of my daughter in Milwaukee, I certainly had every intention of producing this newsletter more than once a year. I had enough research material on hand to produce at least four. However, nature and other things have a tendency to intervene.
On August 14, 1999 (coincidentally, my late mother's birthday) I was coerced into a basketball game with the neighbors. Something broke loose from the plumbing and I suffered a heart attack. Fortunately, it was mild, as heart attacks go. It was also fortunate that we live only 10 minutes from one of the best hospitals for treating heart problems. God was certainly watching out for me because I was about to embark on a travel schedule that would have had me far away from home - in places like Poland - for 5 of the next 7 weeks. Who knows where I might have been had it not been for that basketball game?
Needless to say, I put the brakes on my hectic schedule and one of the things that did not get done was this newsletter.
The damage to my heart has apparently been slight. After cardiac rehab, I am in the best physical shape since I was about 30 (I'll be 50 soon). Even now as I write this I am preparing to go play a double-header softball game in 85 degree temperatures. I will resume producing issues at a pace I find comfortable, but will make no promises about how often I will produce a new one.
Coronary artery disease is often inherited, and mine almost certainly is. However, as far as I can tell in my research, mine did not come from the Offord side. While my grandmother and great-grandfather on the Offord side did die of heart problems, it was not until much later in life. My father (age 83) and his siblings have not exhibited any signs of the disease to my knowledge. My heart condition (and hairline) is directly inherited from my mother's family where my uncle died at 54 of his second heart attack.
What I do suspect is inherited from the Offord side is an arthritic back problem. This seems to be prevelant with nearly every branch of the family. I didn't know I had it until I entered the cardiac rehab program which requires exercising at least 6 out of 7 days. Apparently, this doesn't give time for exercise-induced inflammation to subside. I've had far more trouble with side effects of this (and medicines) than with the heart attack.
Frank Offord (1863-1932) suffered considerably from back problems. His eulogy said he suffered from "hardening of the hip tissues." Besides possible hereditary problems, he apparently also fell from ladder when younger. Sometimes the pain would get so bad that he would use crutches.
I have heard the older generation (Frank's grandchildren) tell stories about how "Grandpa Offord" would chase them out of the corn crib while on his crutches. Perhaps, the photo below was taken after one such event with the usual suspects being lined up against the wall.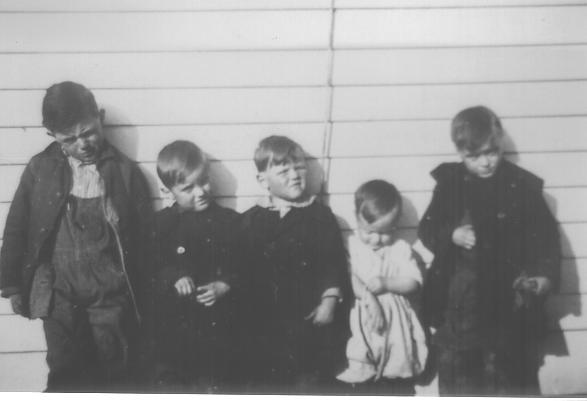 The 5 grandsons of Frank and Adda Offord:
Don McCormick, Wayne Dugan, Gene McCormick,
Bill Dugan, and Frank Dugan, about 1925
Frank sought cures far and wide. My father remembers him telling about going to Minnesota to try a cure in some hot springs. The only springs I have ever seen in Minnesota were all pretty cold! Perhaps, some of our Minnesota relatives can enlighten us. It is possible that he found out about this treatment through his sister, Ella Offord Fouts, in Villard, MN.
He also sought local help in McConnelsville. Before the days of common X-ray usage, the doctors would use the more mature technology of photography to check the alignment of the spine. Frank was so proud of one of pictures that he had it made into a postcard!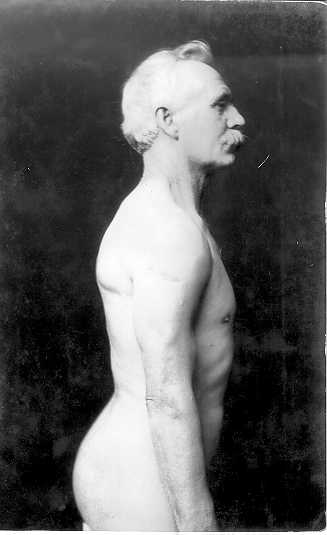 Frank Offord's Famous PostCard
I have heard it said that it was mailed to relatives, possibly around Christmas! However, there is not concensus on whether it was actually mailed. The first I knew of this was in 1973 when my grandmother died and we were going through her old photographs. Until then, I had the impression that all my ancestors on the farm were a pretty staid, conservative, and reserved bunch. But, obviously, there were one or two who stood out a little.
Goal of this Newsletter
In case you didn't get the first newsletter (also available on the Web), we are intending to write a history of those folks who can trace their roots back to the farm in Morgan County, OH, that Alexander and Hannah Offord settled sometime between 1850 and 1863. To do so, we would need your cooperation with family histories and photos of family members.
For those of you just now hearing about this, and not knowing you had any roots in Ohio, the farm is still in the family. I was raised on the farm and my father, Frank Dugan, still resides there. My brother, Tom, and his family live just down the road on what used to be known as the Roberts place. The house and barn that Alexander built in 1881 are still standing and in good condition. The location of the farm is about 2.5 miles north of McConnelsville on what is now called Dugan RD. There is an expanded article on the farm in this newsletter.
This issue concentrates on Alexander and Hannah Offord.
The newsletter is available in digital form on the web (see address in the footer). It also will be delivered by snail mail to those who are "technologically impaired" if you will send me your address.
More on Alexander and Hannah
A framed version of the photo of Alexander and Hannah Offord that appeared in the last newletter is reportedly in the possession of Dorothy Lee in Garfield, MN. That photo is repeated below, showing the handwriting we presume to be Mabel Offord Dugan's.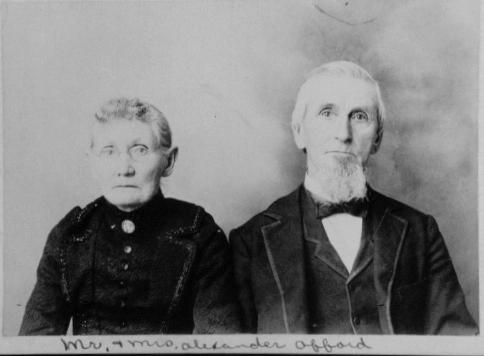 Hannah and Alexander, Abt 1905.
Two more photos have surfaced within the last few months. The next one, which we are guessing is dated between 1890 and 1895, was in the possession of Wayne and Martha Dugan in Ventura, CA.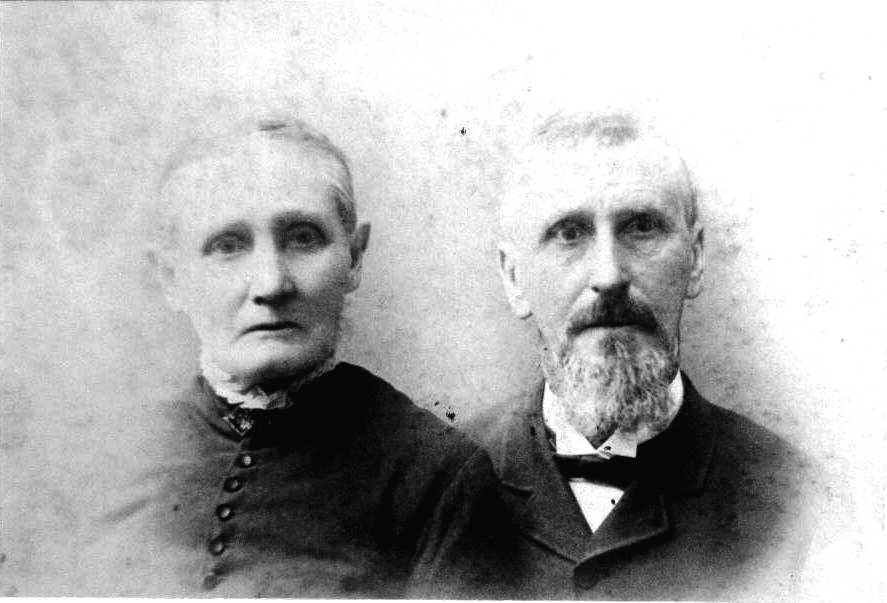 Hannah and Alexander, Abt 1890-1895
(from Wayne Dugan)
The earliest confirmed photo (next) of Alexander was submitted by our Devol side correspondent Sharon Clay of Pleasanton, CA. This was apparently a tin type photo. It turned up when Sharon was going through the belongings of her late mother-in-law, Lena Roberts Ritchie (another Lena!). Lena's mother was Dessie Devol Roberts, daughter of Hiram and Ida Offord Devol.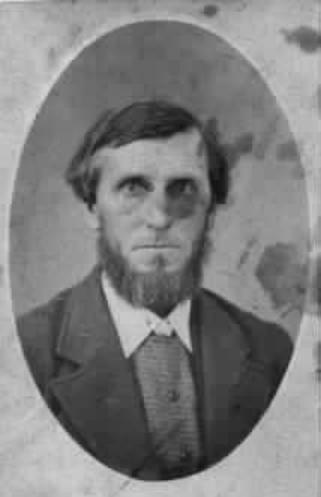 Alexander Offord, 1870(?)
(from Sharon Clay)
The next picture is not confirmed to be Hannah and Alexander. This is an ink drawing made by a portrait artist who signed "Johnson" behind each head. This was found in an old frame in the basement of the farmhouse in McConnelsville and was damaged a little. Perhaps, it was relegated to the basement because it was not a very good likeness.
There are some similarities with the actual photos and some differences. When you study the drawing, you notice several irregularities, such as the lack of symmetry in the man's face. If this is a portrait of the couple, it probably dates from the 1860's. Then again, it could be someone entirely different, perhaps a cousin or even the parents of either Hannah or Alex.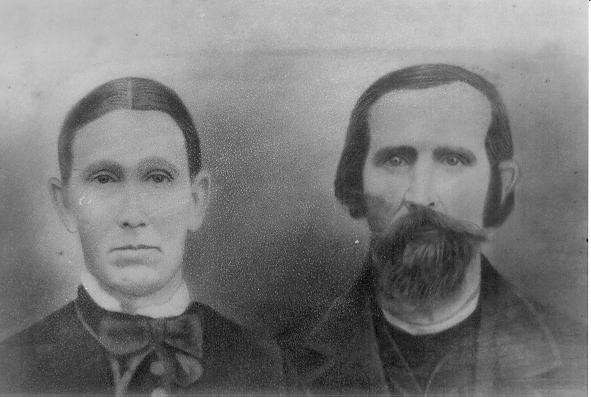 Possible early drawing of Hannah and Alexander
(found on the farm)
I remember seeing a framed version of the "haying" photo (below) when I was younger, perhaps at my grandmother's or at one of my cousins. I remember thinking it was a nice picture, but had no clue about the people in it. This photo may be the most widely distributed picture in the Offord descendants along with the portrait of Hannah and Alexander.
The copies that we had were faded, probably due to exposure to light from being displayed. The one reproduced here was supplied by Dale McCormick, Milpitas, CA, and is in pristine condition. In the original you can see many details about the horse, the wagon, and even the dog in the background. The handwriting is probably Mary Offord McCormick's.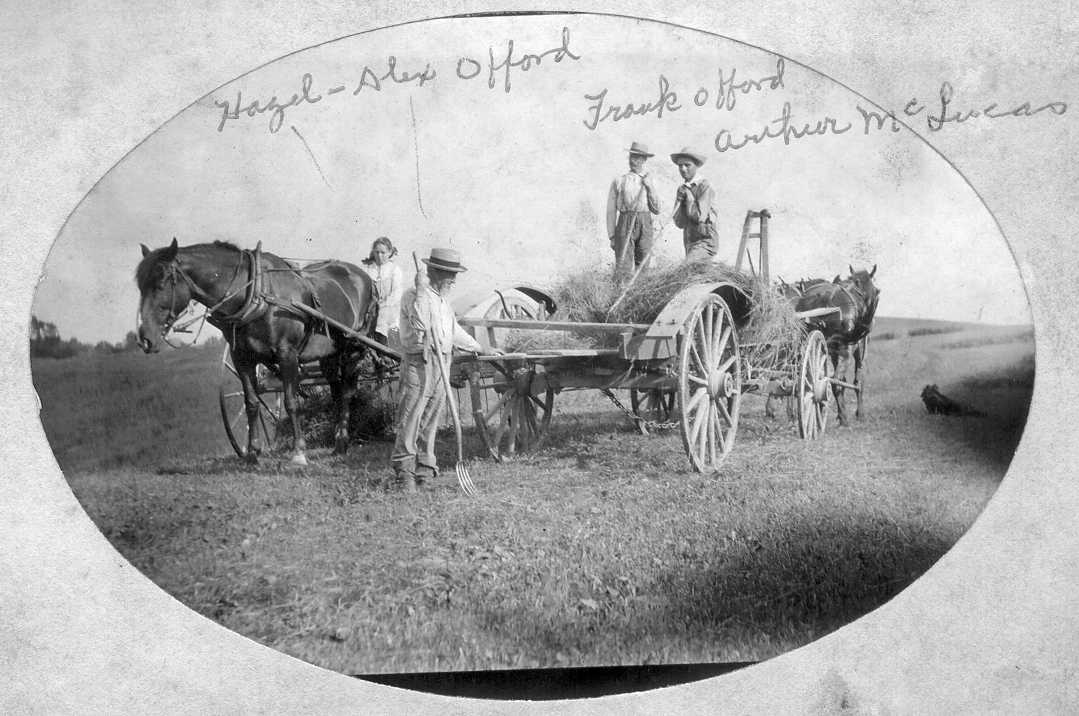 The "Haying" photo from about 1905.
(from Dale McCormick)
The probable reason this photo was so widely distributed is that it shows Lena Hazel Offord on the buckrake. She was killed by lightning a short time after this photo was taken. They had been putting in hay when a storm came up and she was struck as she let the horse through the gate by the large sycamore tree near the original barn. The fate of the horse is not mentioned in family lore. The barn collapsed a few years back, but the sycamore tree is still there. The cedar tree that stood at the corner of the original house is also still standing, although the house was gone before my time.
Hazel was the daughter of Frank Offord (on the wagon) and granddaughter of Alex. From other photos, Hazel appears to have been a real "live wire" and full of life. Her death must have been a terrible tragedy to the family.
Another thing you notice in this photo is how skinny all the men were. I guess hard physical labor keeps you thin. Alex would have been about 77 and Frank about 42 in this photo.
The other man on the wagon is Arthur McLucas who was the husband of Alex and Hannah's youngest daughter, Emma. Emma apparently was better at keeping in touch with those cousins who had moved away as I have found some thought she was the only Offord cousin remaining in McConnelsville.
The Farm in McConnelsville
It is not known exactly when Alex and Hannah occupied the farm. They were married in McConnelsville, OH, in 1850. Alex had been living in Zanesville, in the next county to the North, since at least 1840 where he had moved to from PA with his widowed mother and several siblings. The Offord family seems to have lived in Falls Twp, across the Y bridge from downtown Zanesville in the vicinity of the White Chevrolet dealership. Interestingly, this is the same neighborhood where many of my Dugan ancestors lived and one has to assume they knew of each other. (I am researching the possibility that they were distantly related through the Carney line.)
The farm outline is clearly visible from the USGS aerial photo taken of the McConnelsville area in 1994. (Go on the Web to the address shown and ask to go to McConnelsville, OH - then look about 1-1/2 to 2 miles to the north.)
In 1846, at least the 110A piece, if not all, of the core 160A quarter-section was transferred from Joseph McConnell to John Perry. It was subsequently transferred to a Julia A. Scott on Jan 12, 1856. In the meantime, Alex had purchased Lot 80 in McConnelsville on Feb 15, 1853. According to old maps this was located on what is today S. Kennebec Ave, just one block up from the river (next to Nationwide Insurance). Alex's means of income at this time is unknown.
On June 5, 1863 the 110 A was deeded to Alex on a quit-claim deed from Julia Scott for $40. The reason for this is not known. Was Julia perhaps a sister of Hannah? There was one - Mrs. Kate White - living in Cleveland at the time of her death. Or was this to settle some sort of debt? We simply don't know at this time. Was this the first they had lived on the farm? There is some conflicting information. Alex's obituary 47 years later said that he had lived on the farm more then 50 years. The eulogy of Frank Offord (b. 1863) indicates that the move to the farm coincided with his birth. The acquisition of the rest of the property was a little more costly.
In 1874, Alex took out a mortgage in the amount of $623.12 on Lot #83 in the 2nd addition of McConnelsville. It is suspectd that this was to help Richard and Ella Fouts have a place to live since they were married in this year.. This might be the house that the McLucas family eventually lived in, but could have also been a house near the Commons. Martha, Ida, and Ella had married and left home before Alex and Hannah began their expansion of their properties.
In 1876, Alex and Hannah purchased the Townsend place, an 80A parcel directly to the North, for $3050. The reason for doing this may have to acquire better access to the road. Also, the Townsend place had a good creek bottom that was apparently a good place to grow potatoes, according to Frank and Wayne Dugan. It might have been better than any of the fields on the 110A parcel. The access to the original house location would have been to follow the creek from present-day Rt 78, which might not have been as convenient.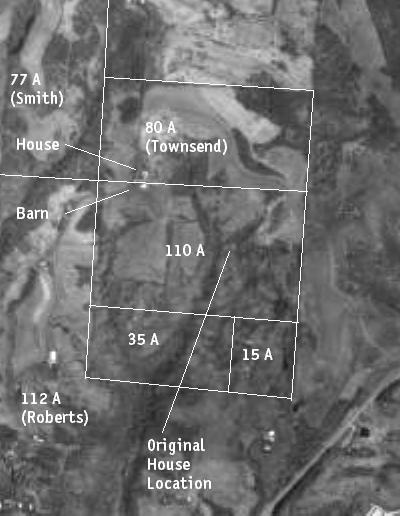 USGS Aerial Photo, 1994

(From http://Terraserver.microsoft.com)

Five years later, in 1881, at the age of 54, Alex built the present house on this parcel in a location next to the Twp. road. The smaller house that used to stand about 100 yds to the North may have been built first. Note that while the present house is on the old Townsend place, the barn is on the 110A. In this same year, their daughter and son-in-law, Ella and Richard Fouts, settled in Villard, MN.

The 35-acre parcel was not purchased until 1879. It was obtained for $1235 from the Kohler and Cochran families who had seemingly inherited it. The final piece of the puzzle, the 15A corner piece was acquired in 1885 from the estate of one of the McConnel's. It had apparently been owned by one Ann Durbin. It is unclear if she resided there and we know of no structures that existed on this land. The original route of the road that is now Rt 78 came right to the corner of the 15A piece. So it is possible there was a dwelling there. Today, Rt 78 is 150-200 yards off the corner.

Thus, the farm grew from 110A to 240A under Alex and Hannah. Frank Offord married Adda Smith in 1887. Adda was either a neighbor or a relative of a neighbor. In 1898, they purchased the eastern 77A of the 160A quarter-section originally owned by the Joseph Smith family from a John Farra. This parcel is directly to the west of the Townsend parcel. Frank and Adda lived in the small house just North of the main house on the Townsend parcel. It is not clear what kind of rent deal they had with Alex and Hannah, but Alex's will suggests that there were rents involved.

In 1907, Alexander was apparently beginning to suffer ill health and transferred the Townsend property to Frank and Edward. He signed the transfer with a shaky "X". Frank then bought out Edward for $1200. After Alex's death, Hannah went to live with Anna Richardson in McConnelsville. Beginning in September 1912, after Hannah's death, Frank acquired the 160A parcel on quit-claim deeds from his sisters. He completed the purchases by June 13, 1914. To Mattie Peairs and Ella Fouts, he paid $600 each. To the sons of Jeanie Gregg: he paid $300 to Orville and $250 to Fred. To Arthur and Emma McLucas he paid $1200. We have no copies of quit-claim deeds from Anna Richardson or Ida Devol. The different amounts may be relative to the amount of financial help Alex and Hannah had given some of the children previously. In his will, Alex explicitly excludes Anna from cash payments for the reason that "I have already made gifts and donations to her which I deem just and reasonable." Fred Gregg got his settlement early in 1911, which might account for his share being less.

The total size of the farm under Frank was now 317 A. The farm remained this size as it was passed on to Darl and Mabel Offord Dugan after Frank's death in 1932. Frank and Margaret Dugan took over the farming after they were married in 1947. 112 A of the Roberts place to the south and west were purchased in the 1950's raising the total size of the farm controlled by the family to 429 A, although the 77 A remained titled to Mabel.

Today, the 77 A parcel has been recently sold back to the present owners of the Joseph Smith property. Frank Dugan still owns the 240 acres pieced together by Alex and Hannah. Tom and Beezie Dugan own the Roberts place. Their barn is visible just West of the 35A parcel in the photo.

Alexander Offord Obituary

Mar 4, 1910, Morgan County Democrat:

Mr. Alexander Offord died suddenly of Brights disease, at his home Friday night, February 25, aged 83 years and one month. Mr. Offord was married almost sixty years ago to Miss Hannah Callahan. To this union were born ten children, seven of whom survive. The children living are Mrs. W. A. Pierce [sic] of Cameron, Missouri; Mrs Hiram Devol of Bloom township, this county; Mrs. R. M. Fouts of Villard, Minnesota; Edward of Olathe, Kansas; Frank who resides on the old home place; Mrs A. B. Richardson and Mrs. Arthur McLucas of this place. Those deceased are Mrs J. C. Gregg and Miss Hattie Offord, and one child who died in infancy.

Mr. Offord was one of Morgan county's best citizens. He had lived on the same farm for more than fifty years and had accumulated considerable property. About fifty years ago he united with the Methodist Episcopal church, at Wesley Chapel, and since been a faithful member and liberal supporter of the church and had held various offices in the church. The funeral was held from the Chapel, Monday afternoon at one o'clock and was conducted by his pastor, Rev. Mr. Stewart.

Hannah Offord Obituary

July 18, 1912 Morgan Co. Democrat:

After a long period of ill health and many months of suffering, Mrs. Hannah Offord, a Morgan county resident, passed away in McConnelsville, Tuesday morning at 10:20 o'clock. Her death occurred at the home of her daughter, Mrs. Amos Richardson, where she had resided since the death of her husband, Alexander Offord a few years ago. Mrs. Offord had reached the advanced age of 83 years, her birthday occurring on March 26 last. Her maiden name was Hannah Callahan. A sister, Mrs. Kate White, widow of J. Q. White, resides in Cleveland. The deceased leaves seven children - Mrs. Martha Peairs of Cameron, Mo.; Mrs. Ella Fouts of Villard, Minn.; Mr. Ed Offord of Lenexa, Kansas; Mrs. Ida Devol of Bloom township, this county; Frank Offord of Morgan township; Mrs. Emma McLucas and Mrs. Anna Richardson of McConnelsville. Mrs. Offord was a good Christian woman and a devoted Catholic, being a member of St. James church in McConnelsville. Her remains were taken early Wednesday morning to her old home place, and the the residence of Frank Offord, who lives on the place, and there the funeral was held this Thursday afternoon at one o'clock, conducted by Rev. Mr. Gibson of the Rural Dale M. E. circuit, with interment at the Chapel cemetery.

Offord Name

Alex and Hannah had only one son who had children and that son had three daughters. Therefore, there are no descandants with an Offord surname.

I suggested in the last newsletter that Gene Offord McCormick was the last descendant still living that bore the Offord name. I was not aware that his grandson was also given the name. So, Andrew Offord McCormick carries the name on. Are there any others out there?

I noticed from the data I received recently from the Richardson side that Offord Richardson (1895-1976) who lived in McConnelsville was named Offord Alexander Richardson. They just reversed the names of his grandfather!

Frank Offord Line

Our sympathy to the McCormick family on the recent death in McConnelsville of Marguerite Spencer McCormick wife of the late Donald F. McCormick.

Fouts Line

I checked up on the family in Minnesota earlier this year and there had been no changes to report. Heard from Karen Schmalek in Tuscon.

Peairs Line

No progress in tracking down any living descendants of this line.

Richardson Line

We've made contact! I received e-mails from two members of this line in the same week last fall after each had independently found my genealogy listing on the Web. Juanita Jones Camp, 25121 Richbarn Rd, Brooksville, FL, 34601 (

TyNCoed@aol.com), is now serving as correspondent for this line.

McLucas Line

We believe this line has died out and nobody has yet contradicted that belief.

Devol Line

Charles Ritchey passed away in 1999. The early tin type of Alexander Offord surfaced while sorting through his estate and was forward to me (digitally) by Sharon Clay

sharoncl@ix.netcom.com (see earlier in this newsletter).

Gregg Line

Still no knowledge of this line. We have been assuming that Jeannie married Fred Gregg since there is a marker for Fred in the Chapel cemetery. However, note that Alexander's obituary refers to Mrs. J. C. Gregg. Also, in the March 4, 1910 edition of the Democrat¸ there is a notation that "John Gregg from Zanesville attended the funeral of Mr. Offord." Only the children Orville Gregg and Fred B. Gregg filed quit-claim deeds after Alexander died.

Alexander's Genes Reappearing?

Recently, my wife, Peggy, and I recently visited our youngest son, Greg, age 21, in Denton, TX, where he is a Music major (percussion) at the University of North Texas. One of the things he is now sporting is a beard and it is red! If you are viewing this from the Web version, you might be able to see that.

One of those things I remember my grandmother telling me as a teenager when I tried to grow a beard was that her grandfather, Alexander Offord, had a red beard. Could it be that after 3 generations, we've had some of Alexander's genes surface again?

So let's put two of the photos side by side and take a look. I took a picture of Alexander and did a mirror image reversal on it so he was looking the same direction as Greg and scaled them so they were roughly the same size.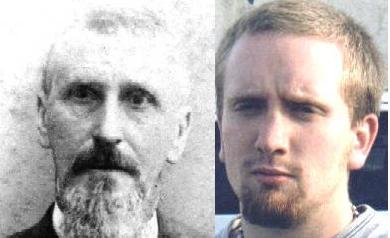 Alexander Offord and Greg Dugan
Aside from Greg squinting, the proportions are similar. Greg has a little more pronounced jaw line that is more characteristic of the Dugans. However, his face is a narrower than the rest of us, which is more like the Offord men. Like Alexander, Greg also has a naturally slender build, at least to this point in his life.
Of course there has to be some contribution of genes from the Offords. You just have to wonder what they are. Are there any more red beards out there? I wonder if Alexander moved as deliberately (i.e., slow) as Greg? Could he play the drums?
Call for Photos and Articles
Please send articles regarding the history of descendants of Hannah and Alexander to the address below. Copies of old photos are also deeply appreciated as we strive to learn more about our ancestors. So that we don't lose originals, let me suggest that you get them scanned into digital format and then simply e-mail them to me.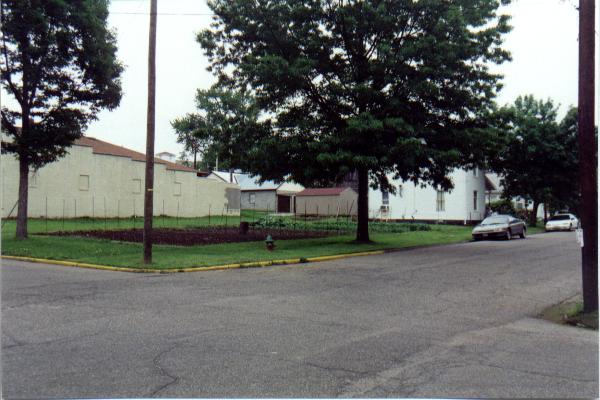 Site of First Offord Home in McConnelsville (2000)
---
Send comments and corrections, new articles, etc. to:
Roger Dugan
---