OFFORD Roots
No. 3, Web Version, Summer 2001
---
Roger C. Dugan, Editor, 344 Sweetgum Dr, Knoxville, TN 37934
---
History of Fouts Migration to MN
The story of the Fouts family migration from Morgan County, OH, to Minnesota is one of the more fascinating in our family. The following was taken from the Villard, MN, Centennial Book of 1983. The information was provided by the families.
"Richard M. Fouts and his wife, Ella Elizabeth (Offord), came to Minnesota in 1880 and located at Villard, MN. Richard was born on September 27, 1850 to Silas H. and Elizabeth (Lehew) Fouts in Morgan County, Ohio. He was the youngest of five children: William, Jacob, Mary, and Margaret being his older siblings. Both his father and brother, Jacob, fought in the Civil War on the Union side. Jacob was killed at the Battle of Chickamauga. Richard's mother died while he was still young and his father migrated west along the Oregon Trail, leaving Richard in the care of his maternal grandmother. Ella Elizabeth Offord was the daughter of Alexander and Hannah (Callaghan) Offord. She was born on May 7, 1856 in Morgan County, Ohio. Known brothers and sisters include Edward, Hattie, Emma, Frank, Jennie, and John. Richard and Ella were married on Nov. 10, 1874 at Morgan County, Ohio. The couple traveled to Illinois, then lived for two years in Missouri before moving to Minnesota.Their first daughter, Lena, was born in Oct. of 1876 enroute in a covered wagon. Lena later married Lewis C. Butler of Villard and they built the home that Densmore Workman now owns.Two other daughters were born after the Fouts settled on the farm that now belongs to Walt Butler. Hazel Ella, who married Earl Remington, was born on June 25, 1890.Jenny Lulu was born on April 3, 1892, and later married Glenn Roy Lee. Both Ella and Richard were active in the Villard Methodist Church, for many years as class leaders, choir director, and teachers of vocal music.Richard passed away on Jan 23, 1927.Ella continued residing in Villard until her death on May 9, 1944. Both are laid to rest in the Lake Amelia Cemetery."
[Note: the brother John referred to is likely cousin Johnny Offord of Zanesville and, later, Columbus, Ohio.] Also, in 1890, Frank and Adda Offord in McConnelsville gave their child born 5 days after Hazel the name "Lena Hazel" which would suggest the families maintained strong contact at that time. It is probable Richard and Ella spent some time with sister Mattie's family in Illinois as both departed Morgan Co about the same time and headed in the same direction. Some photos of the Fouts family were found in the collection that Mabel Offord Dugan had kept. Here are a few: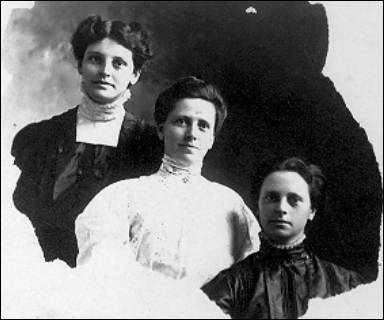 Lena, Hazel, and Jennie Fouts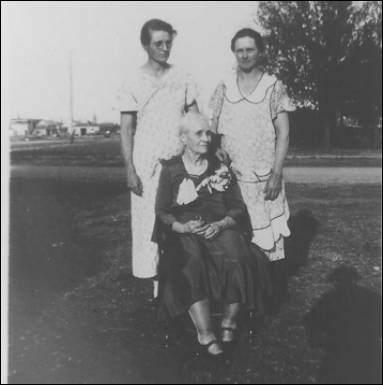 Ella, seated with Hazel and Jennie, probably in 1940's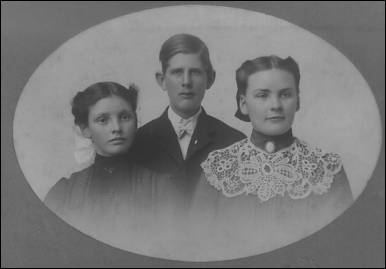 Jennie Fouts with cousins Bernard and Dessie Devol, apparently taken during a visit to McConnelsville.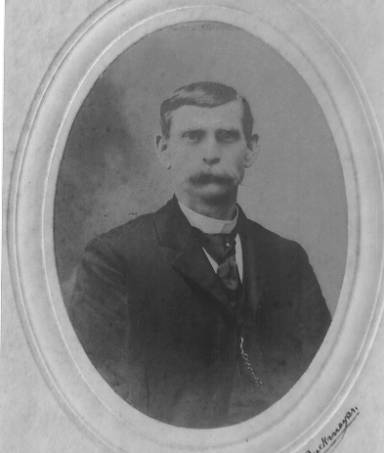 Richard Fouts
Our Family's Connection to Fame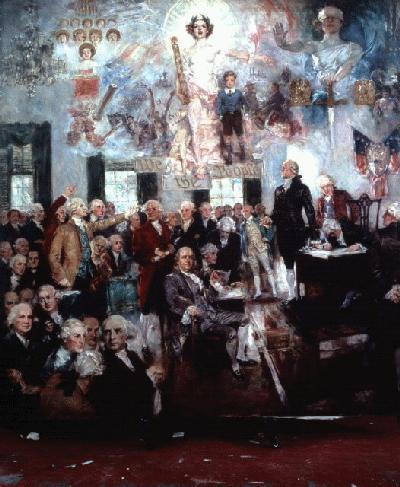 A Portion of The Signing of the Constitution
By Howard Chandler Christy
Every family likes to be associated with someone famous.I haven't found anyone yet in the lineage of Alexander and Hannah Offord who qualifies for that distinction (if there is, let me know!).However, our ancestors certainly rubbed shoulders with someone destined for fame.
There has recently been a lot of commotion in McConnelsville with respect to Howard Chandler Christy, a famous American artist. He was famous for the "Christy Girl" who graced the covers of popular magazines in the early 1900's. Later, he painted patriotic scenes. If you've visited the US Capitol, you may have noticed the large mural on one of the landings titled "Signing of the Constitution".Those of you on the Left Coast may be interested to know that his painting on the signing of the UN Charter is reportedly on display at a library in San Francisco.
It would have only been a short walk of perhaps ¼ mile up over the hill from the old homestead for Alexander and Hannah and their children to visit the Christy home.It was on the adjacent farm (Don Graham's farm today).
The USGS Topo map shows the relative locations of the two farms.There is no road to either farm today and neither farmhouse exists.   Howard was born in 1873 and lived on the farm until he was 3 when his family moved to Duncan Falls. During this time, Ella and Mattie Offord married and moved away. About the same time that the Christy family moved away, Alexander was buying the Townsend property on which the present farm house was built in 1881.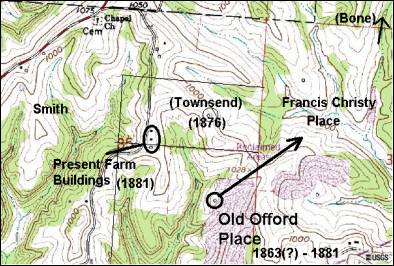 USGS Topo Map of the Offord Farm in McConnelsville
There can be little doubt that the Offords and Christys were well acquainted. Many of the people who lived in the area on the map went to church together and ended up marrying each other. Howard Chandler Christy's mother was Mary Bone.Many of the Offords married within a 5 mile radius. Frank Offord went "next door" to marry Adda Smith.
There are other connections with the Bones: M. Darl Dugan was sawing lumber for Sam Bone down on Meigs Creek (see photo) when he became acquainted with a sweet young lady, Mabel, up at the Offord place. Darl's sister Myrtle married Herman Bone.One of their sons, Fred, married Barbara Jean Kinney, the sister of David, the husband of my sister, Karen. While Fred's children are 2nd cousins to me and my siblings, my sister's children are 1st cousins to them!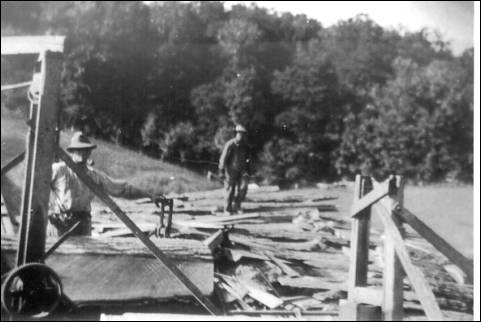 Darl Dugan, with characteristic pipe, operating sawmill.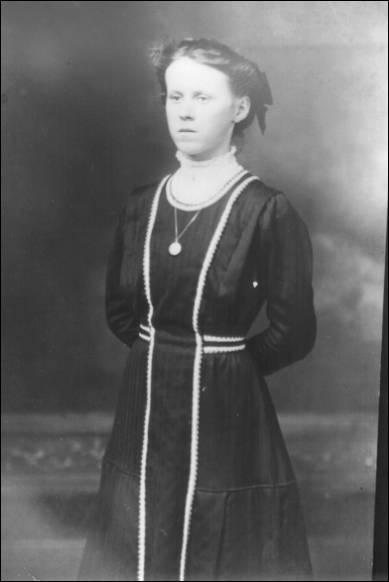 Mabel Offord, about 1910-1915
Line Reports
Frank Offord Line
New arrival:Hudson Tyler Brown to Josh and Lisa Brown, in April.
Dale McCormick is retired, as reflected in his e-mail: retiredyet@hotmail.com.
Wayne and Martha Dugan, at the age of 83(!), are online and active on AOL.You can find them at MarWay42@AOL.com.
Richardson Line
Our condolences to the James Richardson family on the passing of his wife, Pollyann.The obituary text in the Morgan County Herald was as follows:
Pollyann Finley Richardson, 75 died at her home in Magalia, CA, on Aug 28, 2000, after a long illness. She was born in Malta Nov 11, 1924, to Raymond and Jean Naylor Finley. Mrs. Richardson graduated from Malta-McConnelsville High School in 1941, and subsequently from nurses training at Christ Hospital in Cincinnati in 1945. She married James Richardson of McConnelsville in 1944 and the couple lived in various cities in Ohio, Arizona, Texas, and California during his long tenure with AT&T. She was an excellent homemaker, mother, and musician have played piano with many dance bands in the San Francisco area.She was also an avid collector of Roseville pottery. Surviving are her husband, James Richardson; one daughter, Patricia Richardson of Whitmore, CA; two sons, John of Cincinnati and Thomas of Oakland, CA; a brother, Robert Finley of Reedley, CA; sisters, Jean Weisman of Mason and Nancy Quashnick of New Orleans, LA. In addition to her parents, she was preceded in death by a sister Vivi Natali, and her grandfathers, James Ball Naylor, noted author, poet, and doctor, and Frank Finley, founder of the former Finley Packing Plant in McConnelsville.
Below is a photo of the inscription on the back of the Richardson family marker for Chester Richardson who was killed in France in 1918.We assume from this that his remains were not returned.Frank Dugan remembers the family all getting together to place flowers on the grave each memorial day in the 1920's and 1930's. Our records indicate that he had married Mona Lindimore before going off to war and had a son Delmar Richardson. Anyone have any knowledge of Delmar?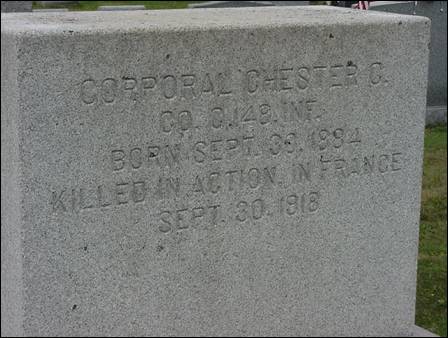 Fouts Line
I contacted Hazel Abraham in Minnesota last month and she had no changes to report.See feature article on Richard and Ella Fouts
Peairs Line
Still no progress in tracking down any living descendants of this line.Hopefully, someone will stumble onto my listing on the Web and contact me as has happened for several other lines I am researching.Please check any old letters, cards, etc that were saved by the previous generations for mention of "Mattie".
Devol Line
I was given an email address for Donald Roberts: donaldwroberts@msn.com.Otherwise, I have no news to report.
McLucas Line
We have confirmed that this line has died out. While strolling through the McConnelsville cemetery last Fall looking for Chester Richardson's marker, we stumbled on the marker for Shelton Root Jr. who apparently died in Florida in 1986. There are no descendants to our knowledge.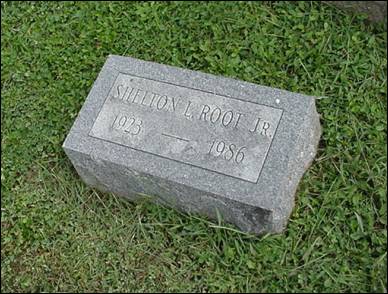 Marker for Shelton Root, Jr, Grandson of Arthur and Emma McLucas
Emma Offord McLucas was the last of Alexander's children to die.She was apparently one of the best at keeping in touch with all the relatives that had scattered and I suspect much family history has been lost with the demise of this branch. We have no idea who might have gotten the last of their family belongings.
I remember "Aunt Emmy," but only as an elderly lady who was a "cheek pincher" who had a manner that frightened me a little and I ran from her when I saw her coming. One time I was trapped in a combination child seat and table contraption and couldn't get away.They tell me it was probably my 1st birthday party. It must have been very traumatic because I still recall the event! Here is a photo of Arthur and Emma taken at the farm in the early 1900's when they were much younger.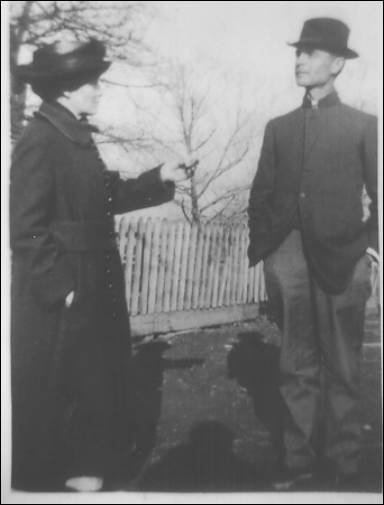 Arthur andEmma McLucas
Gregg Line
Still no new knowledge of this line. Below is the last knowledge we have of them:Orville in his WW I (or earlier?) uniform.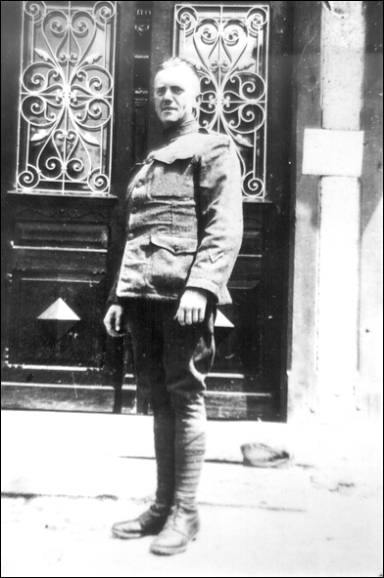 Orville Gregg
Call for Photos and Articles
Please send articles regarding the history of descendants of Hannah and Alexander to the address below. Copies of old photos are also deeply appreciated as we strive to learn more about our ancestors.So that we don't lose originals, I suggest that you get them scanned into digital format and then simply e-mail them to me.
Roger Dugan, Editor, 344 Sweetgum Dr, Knoxville, TN 37922, 865-966-9914
E-mail: mailto:RcDugan@aol.com