Hard Tack Candy Making Dec 1, 2007
Sarah come over and we made hard tack candy ... first time in years. Kevin had requested it. Used to be a family tradition that we used to do with other families ... such as the Sponslers and Owens.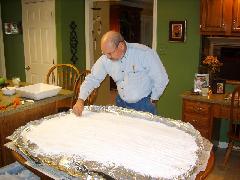 Photo (71KB)
Making rows.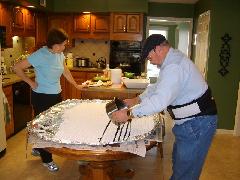 Photo (71KB)
First pour. A little outta practice.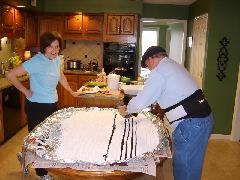 Photo (76KB)
Still pouring Not quite so neat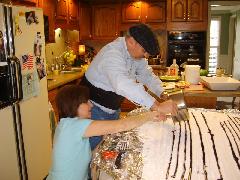 Photo (81KB)
Scraping more of the grape out of the pan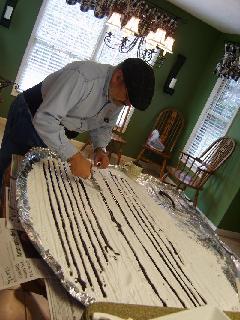 Photo (149KB)
Cutting into pieces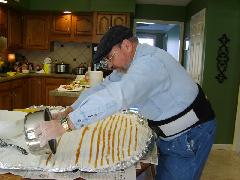 Photo (66KB)
Pouring the pineapple, I think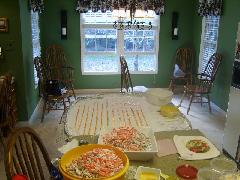 Photo (77KB)
This was the clove. Note the neater rows ... and the open windows. Whew! Cleaned out the sinuses.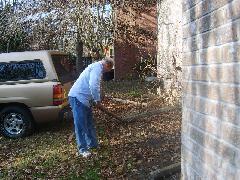 Photo (131KB)
Tearing down the old grape trellis. Did you know treated lumber rots. Had wood borers too, which fascinated Sarah.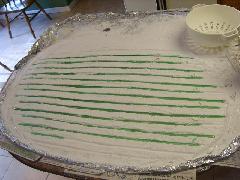 Photo (73KB)
Pina Colada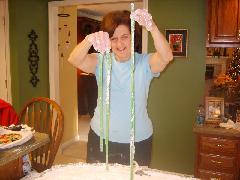 Photo (59KB)
Candy before cutting