Grandma Jean's Family Renunion
On Saturday Aug 2, 2008, all 18 of the Grandma Jean's great-grandchildren were assembled at the Dennis and Betty Thatcher's near Waterford, OH. The occasion was timed to coincide with our vacation trip to Pennsylvania and Ohio with Kathy, Scott, Peyton, and Samantha. Peyton and Samantha learned they had a lot more cousins than they had ever dreamed. Of the 18, 16 were between the ages of 0 and 8. Lots of little kids and lots of energy. Here are a few of the photos to give you an idea of what transpired.
Click on photo or its link for larger image.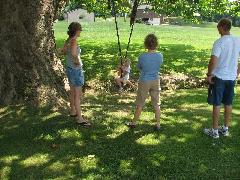 Photo (126KB)
Trying the rope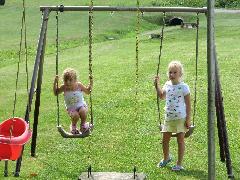 Photo (121KB)
Cousins Anna and Samantha meet for the first time.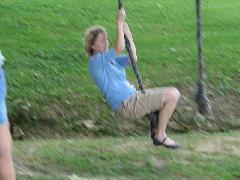 Photo (70KB)
Kathy swinging fast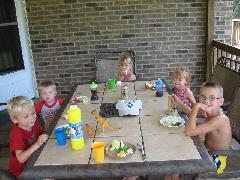 Photo (86KB)
Smiling cousins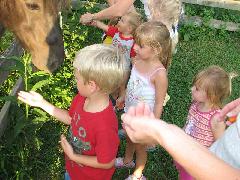 Photo (104KB)
Feeding the ponies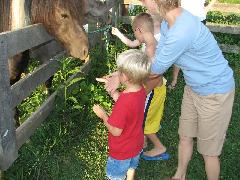 Photo (101KB)
Feeding the ponies
Photo (133KB)
Trying to attract a horse with a carrot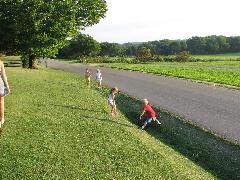 Photo (120KB)
Straddling the ditch. Wouldn't guess he was a boy ;-)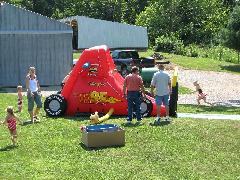 Photo (138KB)
Setting up the water slide with the Cars theme. I just wondered about those Leak Less Adult Drip Pans that are advertised there on the side. Next time I watch the movie, I'll be on the lookout for them and other similar things I obviously missed previously.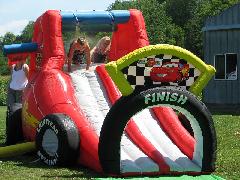 Photo (94KB)
The water slide fun starts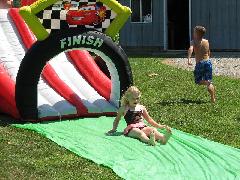 Photo (110KB)
Sammie on the slide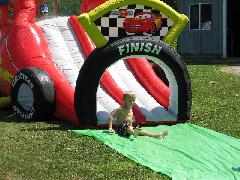 Photo (106KB)
Peyton hitting bottom
Photo (113KB)
Climbing back to do it again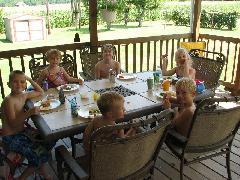 Photo (105KB)
Wet and smiling cousins
Photo (113KB)
The bug swatter brigade
Photo (135KB)
Scott looking cool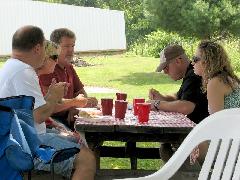 Photo (86KB)
Thatcher table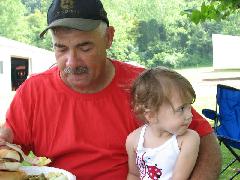 Photo (71KB)
Grandpa Donny
Photo (81KB)
Mammy with Eli and Lilly. Eli Lilly?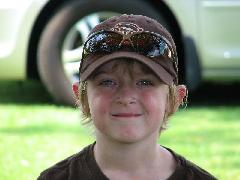 Photo (48KB)
Rhys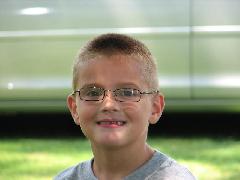 Photo (37KB)
Cage
Photo (51KB)
Carson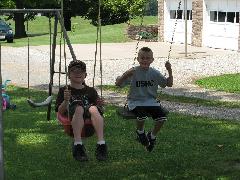 Photo (104KB)
Awww lookit the baby in the swing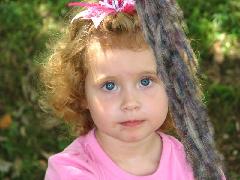 Photo (63KB)
Lilly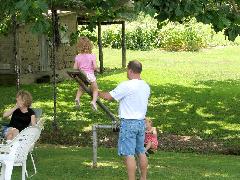 Photo (123KB)
Brad helping with the seesaw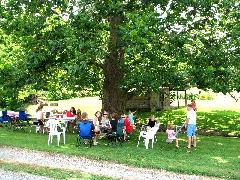 Photo (173KB)
Part of the gathering under the tree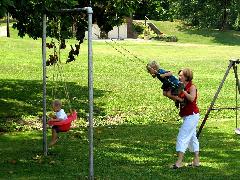 Photo (146KB)
Peggy helping the swingers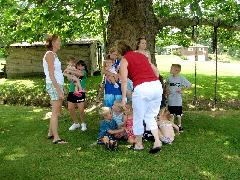 Photo (139KB)
Trying to get the great-grandchildren assembled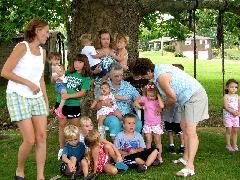 Photo (129KB)
Getting a little more organized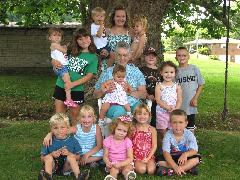 Photo (122KB)
There! We got them all synchronized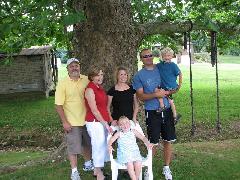 Photo (115KB)
The Dugans/Schumanns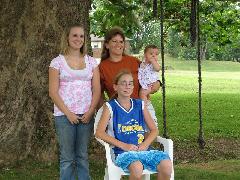 Photo (112KB)
Ron Wagner representatives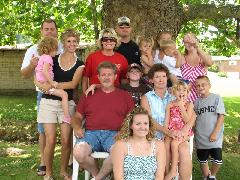 Photo (115KB)
The Thatcher clan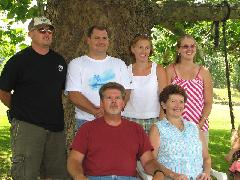 Photo (95KB)
Thatchers without grandchildren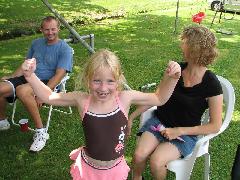 Photo (103KB)
Showing off muscles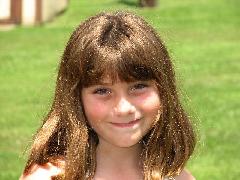 Photo (80KB)
Cheyenne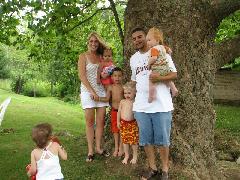 Photo (114KB)
Tiffany's family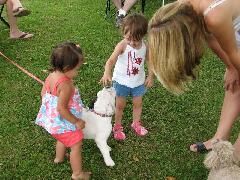 Photo (117KB)
Checking out the puppies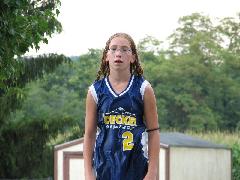 Photo (63KB)
Did you get a little wet?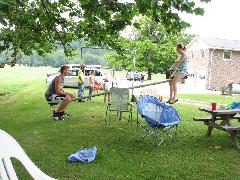 Photo (123KB)
D J Cunningham and Mariah. A little mismatch?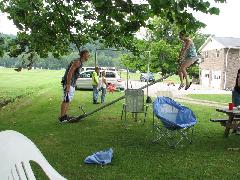 Photo (115KB)
That's one use for those big feet.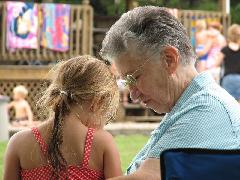 Photo (81KB)
Anna and Grandma Jean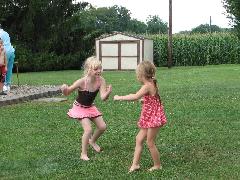 Photo (114KB)
Dancin' girls