Christmas Eve 2007
Photos taken Christmas Eve. Greg and Roger worked on Grandpa's present. They took a break in midafternoon for Scott's annual croquet lesson. Then we settled in for dinner and some entertainment followed by the usual Nerts and Dominos games (Scott won both). Sarah joined us a little late and we had an enjoyable time. We had the traditional reading ot the Night Before Christmas. Then we heard Santa's sleigh bells as he delivered presents to other houses in the neighborhood and Sammie and Peyton went straight to bed!

Some of these photos are Greg's and some Roger's, so they are not necessarily in order.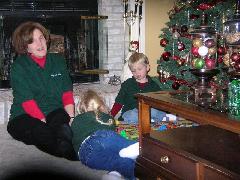 Photo (90KB)
Playing Candyland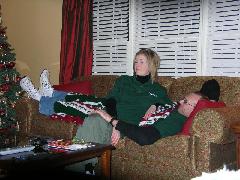 Photo (89KB)
Kathy and Scott amused at the action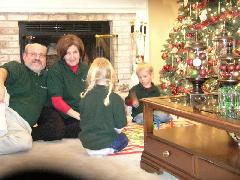 Photo (85KB)
Is that a smile or an evil look?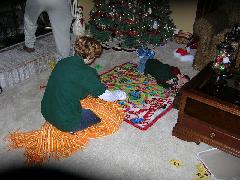 Photo (100KB)
Aunt Meredith gets into Candyland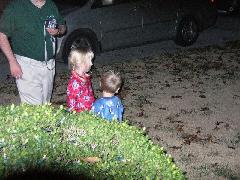 Photo (105KB)
Putting out reindeer food for Santa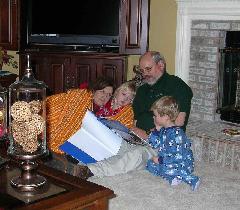 Photo (103KB)
'Twas the night ...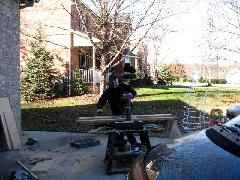 Photo (119KB)
Setting up the saw to make a major cut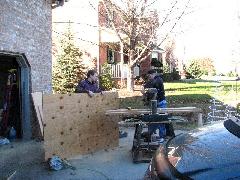 Photo (108KB)
Figuring out how to cut this sheet to use for the base.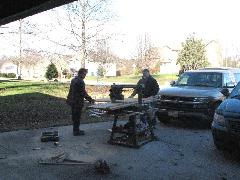 Photo (88KB)
Cutting the sheet
Photo (115KB)
Croquet lesson in progress. I think the photographer asked "Who's winning?" Dumb question.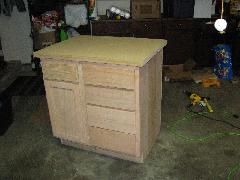 Photo (71KB)
Almost finished product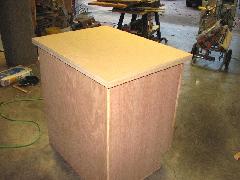 Photo (74KB)
Back side view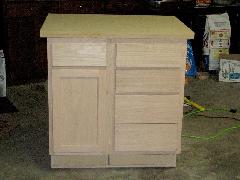 Photo (70KB)
Front view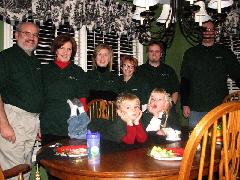 Photo (103KB)
Family portrait prior to Xmas Eve meal. The shirts say "Peggy Sue's Diner" except the little ones -- their's say "Nana's Diner"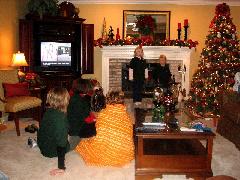 Photo (99KB)
Sam and Peyton entertaining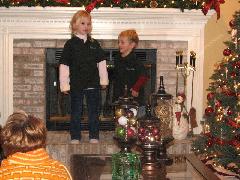 Photo (95KB)
Story telling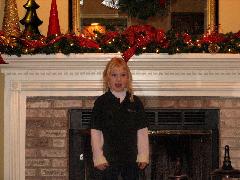 Photo (87KB)
Sam telling a Princess tale.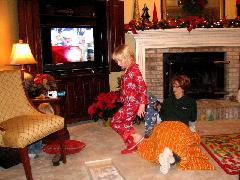 Photo (93KB)
New PJs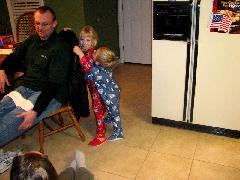 Photo (74KB)
Modeling New PJs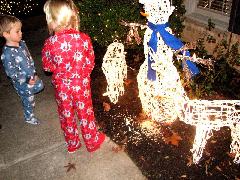 Photo (129KB)
Putting reindeer food out.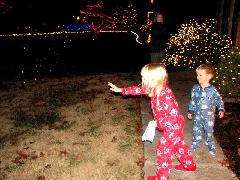 Photo (93KB)
Tossing reindeer food out in the yard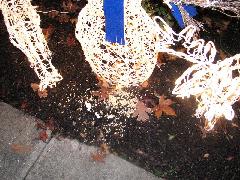 Photo (133KB)
Reindeer food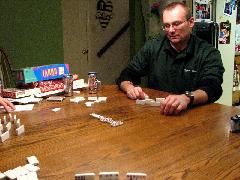 Photo (92KB)
Serious Dominos player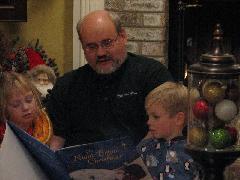 Photo (73KB)
'Twas the Night Befor Christmas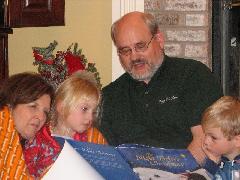 Photo (79KB)
Reading the Story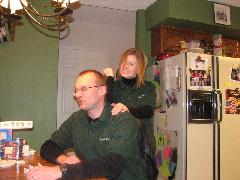 Photo (73KB)
Getting the knots out of Scott's back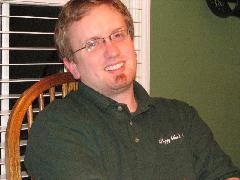 Photo (69KB)
Greg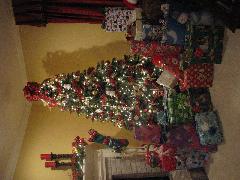 Photo (89KB)
After Santa's arrival