A Photographic History of the OFFORD - DUGAN Families of Morgan Co., Ohio
This web site is devoted to a collection of historical photographs associated with those people who have a connection to the farm north of McConnelsville, Ohio owned by the Offord and Dugan families since 1850. Many of the photos were collected and kept by Mabel Offord Dugan who died in 1973 and rediscovered in 1998 after the death of Margaret Broedel Dugan in the old farmhouse built by Alexander Offord in 1881. The story here essentially begins with the joining of the Alexander Offord family and the Alexander Smith family through the marriage of Frank Offord and Euphamey Adda Smith. The farm was passed down to Frank and Adda and then to their youngest daughter Mabel who was married to Meredith Darlington Dugan. The farm then was passed to Frank Dugan and the Dugan family still lives on the farm.
---
Click on photo or its link for larger image.
---
The Offords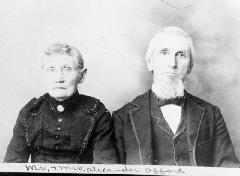 Photo (52KB)
Matriarch and Patriarch of the Offord clan: Hannah Callahan Offord and Alexander Offord. This couple settled the farm in McConnelsville about 1850 and constructed the main buildings that still stand in 1881. Hannah was a Lee descendant from Virginia and was likely related to Robt. E. Lee. Alexander came from a large family that settled in Zanesville from Maryland via Cumberland Co., PA. The Zanesville cousins would visit the farm occasionally. The Offords acquired the first part of the farm (110A) on a quit-claim deed from a Julia Scott for $40. From there, they built it up to 240 A., acquiring the 80-acre Townsend farm to the North in 1876. In 1881, they built a new home on the Townsend farm. The red barn is on the original 160A piece.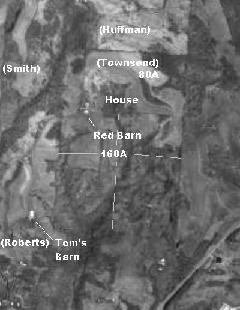 Photo (31KB)
This is a USGS photo of the Offord farm North of McConnelsville on Dugan Rd. When they named the roads, they used the name of the longest resident of the road. The outlines of the fence rowas can be clearly seen. The rectangle toward the top center is the 80-acre Townsend farm that was the last on Alexander Offord acquired. You can see the barn and the house in the lower left corner of the rectangle. The barn actually sits on the 160 quarter-square to the South. To the South and West is the Roberts Farm acquired by Frank Dugan and now owned by Tom Dugan. At one time Frank also owned the 77A parcel directly west of the Townsend farm, which was acquired from the Smiths by Frank and Adda Offord. That was sold to the neighbors a few years ago.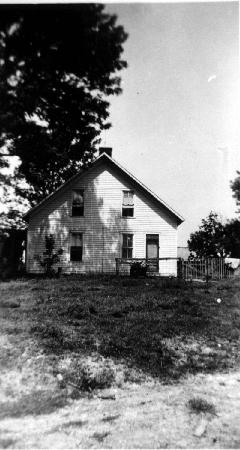 Photo (150KB)
View of the house that Alex and Hannah Offord build in 1881. Still standing with additions and modifications.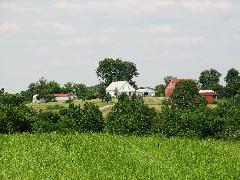 Photo (102KB)
Farm buildings as seen from the hill above Tom Dugan's (Old Roberts place). 2006. Alexander Offord built the main house and the red barn in 1881. Other buildings are more recent.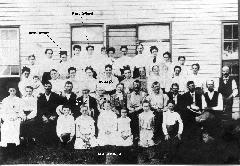 Photo (88KB)
1905 photo of those who lived near Alexander and Hannah Offord in Morgan Twp, Morgan Co, Ohio. Key family members are noted. This was taken prior to the death of Hazel in the same year - maybe even the same month. Since Alex and Hannah are by far the eldest present and in the middle of the photo, this was likely a special celebration for them. This could have a 55th wedding anniversary for Alex and Hannah. By the absence of Frank Offord, we assume he was behind the camera. The Devol cousins were in attendance. Cousin Dessie Devol is 2nd from left on 2nd row. Ida Offord Devol is woman on the right in 3rd row. Bernard Devol is young man 3rd from right in 2nd row.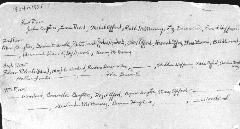 Photo (58KB)
Key to group photo in handwriting of Mabel Offord Dugan.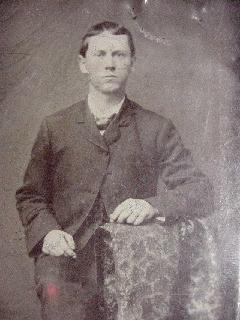 Photo (143KB)
Frank Offord as a young man. While he looks different here than in later photos, the handwriting on the back of this tintype is that of Mabel Offord Dugan and she should know.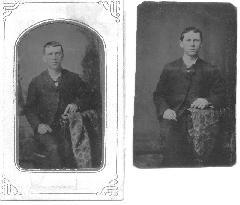 Photo (64KB)
Edward and Frank Offord as young men. From tintypes. Taken by J. T. Ayres, McConnelsville. This is the only known photograph of Edward. (Other than Frank, Ella, Anna, and Emma, we don't have many pictures of the other Offord children, either.) We have recently [2008] discovered that Edward was a Watkins representative in Johnson, Co., KS. He lived in Lenexa, KS near Kansas City. He was married to Mary Elizabeth Offord and had one daughter, Beulah, who married Howard Earnshaw.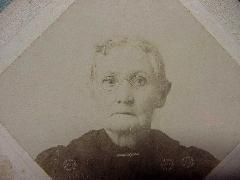 Photo (55KB)
Hanna Callaghan Offord (circa 1900)
---
The Smiths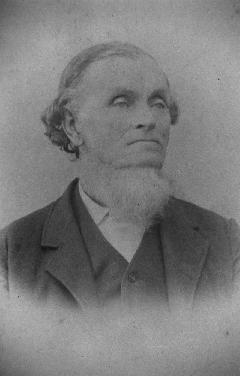 Photo (115KB)
Alexander Smith -- patriarch on the Smith side. This is Adda Smith Offord's father. Some claim that the descendants of Frank and Adda Offord got their main facial features from the Smith side.
---
The Dugans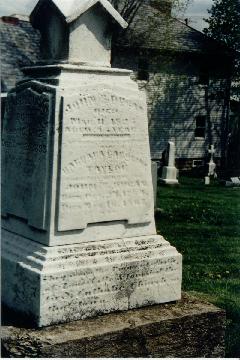 Photo (144KB)
Marker to John Smon Dugan at St Thomas Cem in Zanesville. His remains are actually buried below the church floor downtown. Also a marker for his wife Barbara Caroline Schweitzer who went on to marry Gen. James Taylor after Johns untimely death. Taylor built the Mound House in Duncan Falls, OH. The LDS church says Barbara died and is buried in NY state (Herkimer). Don't know who is correct. John operated the Green Tree tavern in Zanesville until he was killed in a stagecoach accident in 1824 while bringing the first Catholic priest to Zanesville. He operated the tavern/hotel with his brother Peter who is the ancestor for MD Dugan and the other Dugans in this website. The lineage is Peter Dugan, Richard Henry Dugan, Charles Dugan and then Meredith Darlington Dugan.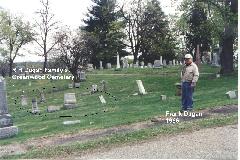 Photo (99KB)
An 80-year old Frank Dugan standing in from of the graves for Richard H Dugan family members, They were buried in 5-grave lot purchased at the time of death of dau-in-law Luanna Bird Dugan (leftmost marker). Next is Ella Josephine Dugan Clark Still (dau), Wm T. Morton (son-in-law from Oakland, CA who died unexpectedly while visiting in Zanesville), probably Ellen C. Faust Dugan (wife), and Richard's civil war military marker. We're not sure Ellen is in this grave because someone did not fill in the cemetery books completely for her record, but Anna Roberts took care of the arrangements as she did for others, so we assume this is where she was planted.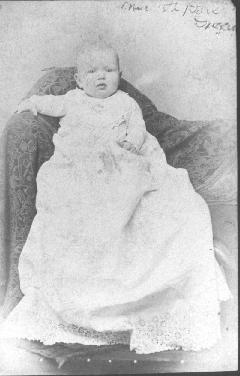 Photo (119KB)
Meredith Darlington (Darl) Dugan about 1890. Not sure of the origin of either the Meredith or the Darlington connection but both names existed in Zanesville at this time. There was also a riverboat captain named Meredith Darlington. Could he have been named after him? Born into an Irish Catholic family in Zanesville, OH. Was abandoned by father Charles after mother Rosa Todd Dugan died following birth of sister Mary F, who also died in infancy. (Funeral arrangements for Mary F were handled by "Uncle Charlie" Hearing who was married to Rosa's sister and owned a funeral home in Zanesville. This was the Uncle Charlie that most of the Dugan family knew; not Charles Dugan.) Darl and his older sister grew up in McIntire children's home in Zanesville until age 16. Moved to Morgan Co. where he worked on the Sam Bone farm/sawmill and there met Mabel Offord from a nearby farm.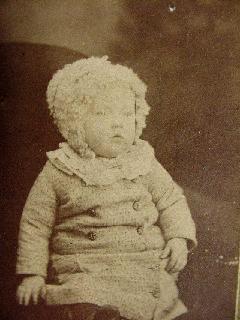 Photo (140KB)
Meredith Darlington Dugan. Probably 1890.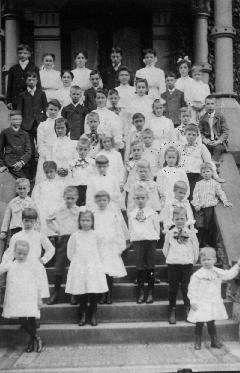 Photo (121KB)
Photo of McIntire Children's home perhaps around 1900 or earlier. Meredith Darl Dugan and sister Myrtle are on the right side of the photo. See next photo for a blow-up.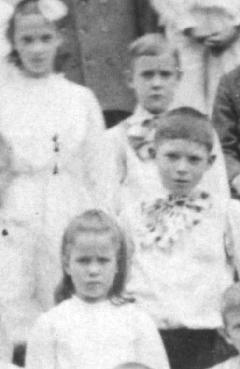 Photo (40KB)
The blonde-haired boy is believed to be M. D. (Darl) Dugan. Myrtle (who later married Herman Bone is believed to be the girl at the bottom of this photo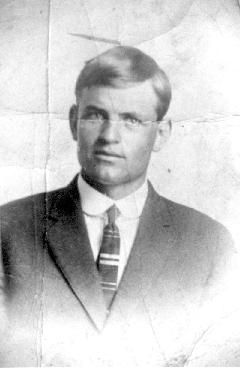 Photo (105KB)
Meredith Darl Dugan as a young man. By this time he had likely moved to Morgan County and was working with Sam Bone's sawmill operation about 5 miles from the Offord farm north of McConnelsville.
---
Frank and Adda Offord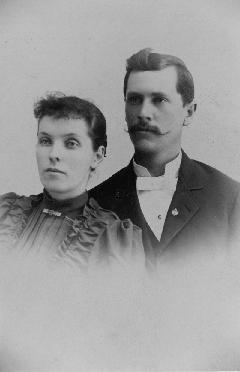 Photo (77KB)
Wedding portrait of Adda Smith and Frank Offord. (Frank is on of two sons of Alex and Hannah; there were 7 daughters)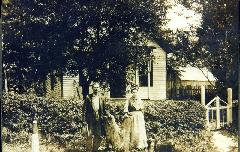 Photo (116KB)
Frank and Adda Offord in front of their house just north of Alex and Hannah's house. This house is also where MD and Mabel Dugan took up housekeeping after they were married. The house was torn down in the 1970's. Frank Dugan recalls how George Palmer was disking the garden (to the left in this photo) and got the horse on one side of the hedge and the disk on the other.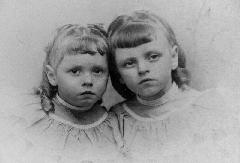 Photo (50KB)
First two children of Frank and Adda Offord: Hazel and Mary.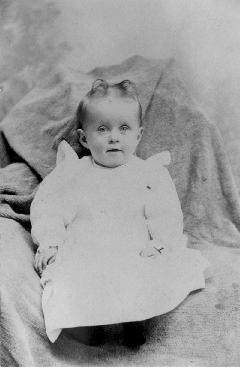 Photo (101KB)
Mabel Offord, 3rd child of Frank and Adda.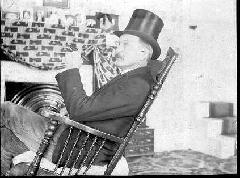 Photo (21KB)
Frank Offord striking a pose. This was taken at the Bill Roberts home, just down the road from the Offord farm in McConnelsville.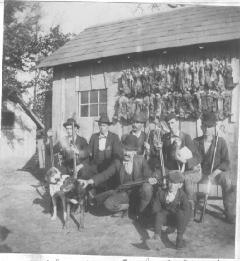 Photo (79KB)
About 1900-1905. The Offord clan from Zanesville and Columbus descended on the farm in McConnelsville occasionally for a hunt. Seated against the shed are Johnny, Bert, Frank, Henry, and unknown. In the front is George Palmer who was married to Cornelia "Nealy" Offord, and Chester Richardson. Johnny, Bert, and Henry were sons of John Carney Offord, Alexander's brother. Cornelia was their sister. As you can see, hunts in those days could be quite productive. Of course, besides the dogs, they would use ferrets to go into the holes and force the rabbits out. This hunts continued until the 1930's. Frank Dugan recalls it sounding like a war when they would get the rabbits moving. In his later days, Frank Offord would hunt from the buggy and was reported to have shot a rabbit underneath the horses.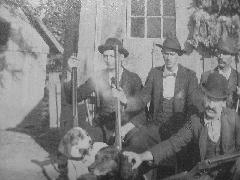 Photo (73KB)
Close up of Johnny Offord from "hunters" photo. Notice how they dressed up to go hunting! John, Bert, and Frank Offord in background. George Palmer holding dog. Circa 1900-1905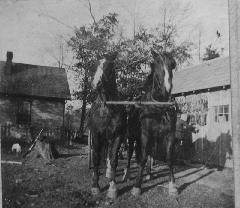 Photo (78KB)
Scene at the Frank Offord place after a rabbit hunt (note man in background is skinning rabbits on the side of the old shop.) This shop was later pulled to the big house and subsequent generations skinned rabbits on it into the 1970's. This photo was probably taken between 1900 - 1910.
Photo (67KB)
The extended Offord clan including cousins from Zanesville down at the farm for a rabbit hunt. Taken same day as the photo with all the rabbits on the old shop wall.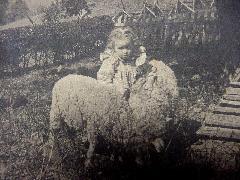 Photo (107KB)
Mabel Offord with Merino sheep. Circa 1900.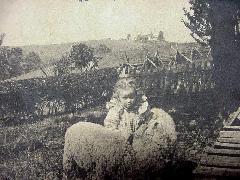 Photo (110KB)
Another view of previous photo showing more of the view toward Wesley Chapel in the background. This was taken in front of the little house (Frank and Adda's) looking West. Note the hedgerow.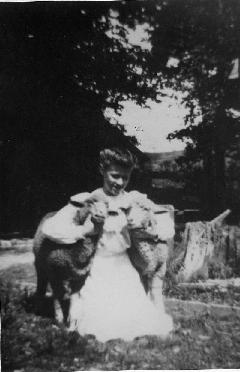 Photo (103KB)
Mabel Offord with Merino sheep. Probably about 1905.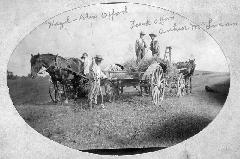 Photo (80KB)
Photo possibly from 1905, or slightly older, showing the Offord family at work in the hay field. That is Hazel on the buck rake. Alexander with the beard on the ground. Frank Offord (l.) and Arthur MacLucas (r.) on the wagon. Arthur was married to Emma Offord, the youngest daughter of Alexander and Hannah. Handwriting on this photo is Mary Offord McCormick. This photo was widely circulated among the family probably because it shows Hazel raking the hay. One day, after completing this chore, she was struck by lightning while letting the horse through the gate into the pasture and killed. The gate was by a large sycamore tree, which still stands.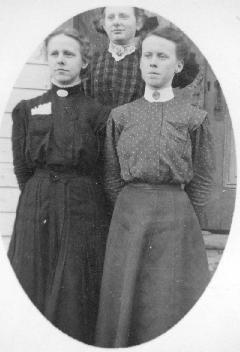 Photo (94KB)
Mabel Offord (r.) with the Reed girls. The one on the front left married Billy Smith, Mabel's cousin. About 1910-1915.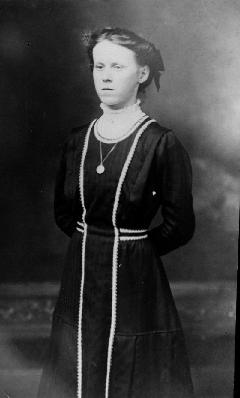 Photo (85KB)
Mabel Offord about 1910.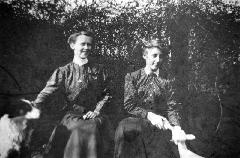 Photo (73KB)
Mabel Offord and Lena Reed (Flora Roberts' daughter). About 1915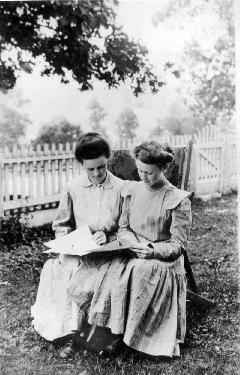 Photo (147KB)
Mary and Mabel Offord between 1910 and 1915. Mary married Homer McCormick and Mabel married M. D. (Darl) Dugan.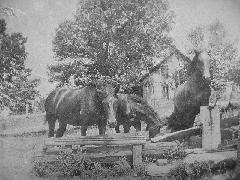 Photo (106KB)
Horses at Offord farm drinking from the hollow log trough at the red barn cistern. Farm house in background was built by Alex. Offord in 1881. Probably taken about 1915.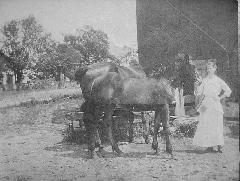 Photo (87KB)
Mabel Offord with horses at the red barn cistern. Circa 1915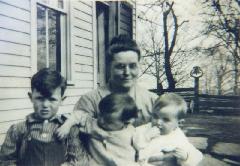 Photo (62KB)
Adda Smith Offord with 3 of her grandsons: Don McCormick, Frank Dugan, Wayne Dugan. About 1919. In front of the "big house" at the farm.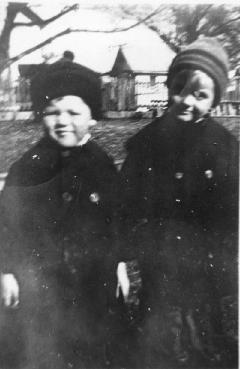 Photo (86KB)
Gene McCormick and Wayne Dugan about 1925.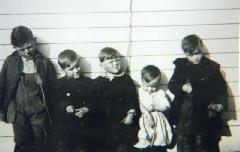 Photo (40KB)
The 5 grandsons of Frank and Adda Offord lined up against the wall at the farm. Don McCormick, Wayne Dugan, Gene McCormick, Bill Dugan, Frank Dugan. About 1925. (Wire in background is for the lightning rods on the house.) Don doesn't look particularly happy about having his photo taken. This may have coincided with a Thanksgiving celebration that was also photographed.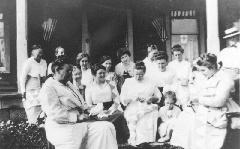 Photo (52KB)
Ladies Aid Society. Addie Smith Offord 4th face from left.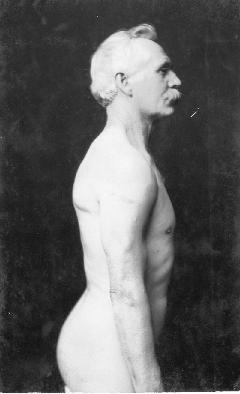 Photo (95KB)
Frank Offord's famous postcard that he reported mailed out to kin around Christmas time one year. In the age before X-rays, this was a diagnostic photo taken to help with his back problems.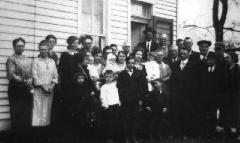 Photo (44KB)
Thanksgiving dinner at Frank and Addie Offord's, probably about 1925. Mabel holding baby -- probably Dorothy. ? Frank Offord is believed to be the man in white hair with hand to mouth behind her? Looks like Wayne Dugan in front in white shirt. Cameraman must have been Darl Dugan since he is missing from the photo. Not sure where Frank Dugan is. Man with the big cap on the right side is reportedly Bill Roberts, who owned to farm immediately to the South. Lizzie Huffman is to the right of Mabel. The Huffmans were the next farm to the North.
---
M. D (Darl) and Mabel Dugan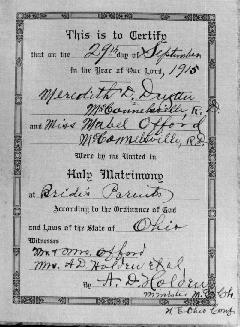 Photo (148KB)
M. D. Dugan and Mabel Offord's marriage certificate. They were married by a Methodist minister. In fact, nearly everyone in the neighborhood was Methodist except Hannah Offord who maintained that she was a Catholic -- although she worshipped at Wesley Chapel, near the farm on land donated by the Smith family.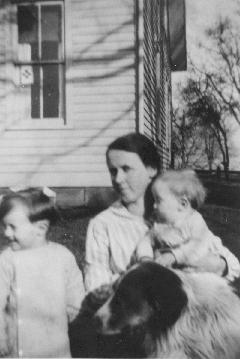 Photo (102KB)
Mabel with her first two children, Frank and Wayne about 1919. At this time, Frank and Adda would have been living in this house while Darl and Mabel Dugan lived in the smaller house to the North.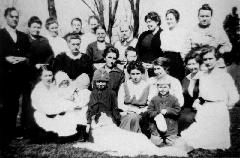 Photo (63KB)
Probably ladies aid society meeting (with the minister). Mabel Offord Dugan is kneeling on the left with at least 2 children. Hair looks similar to 1919 photo, so the children are probably Wayne and Frank. Woman just to her right bears a resemblance to Jennie Offord Gregg/Stuard. Grandma Addie behind them. Lizzie Derwacter Huffman 2nd from right. Always a dog in the photo. Probably kept the boys occupied.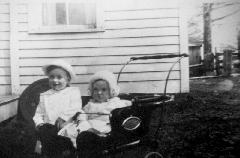 Photo (51KB)
Frank and Wayne about 1919. This looks like it was at the smaller house to the North where Mabel and MD were living.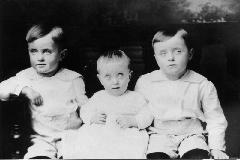 Photo (42KB)
The 3 sons of MD and Mabel. Wayne, Bill, and Frank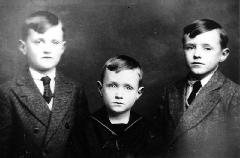 Photo (47KB)
Wayne, Bill and Frank Dugan about 1925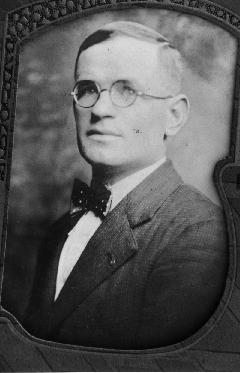 Photo (110KB)
M. D. (Darl) Dugan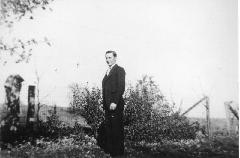 Photo (45KB)
Frank Dugan about the time of graduation from High School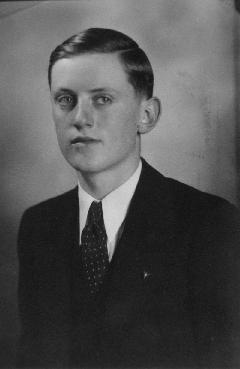 Photo (85KB)
Wayne Dugan HS graduation photo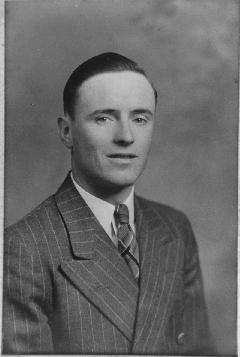 Photo (94KB)
Frank Dugan in a post-High School portrait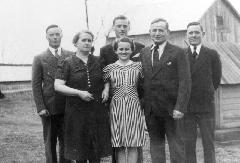 Photo (57KB)
1939 portrait of M. D. Dugan family 1939. Mabel, Dorothy, Darl. In the back: Frank, Wayne, and Bill. All 3 boys served in WW II. Bill was killed one week after the surrender of Japan in an airplane accident on Guam Island.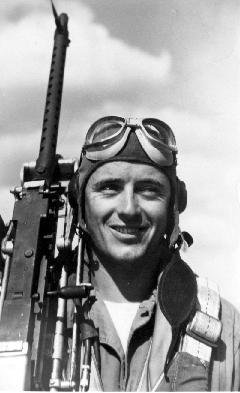 Photo (110KB)
Frank Dugan -- photo taken before first training mission in WW II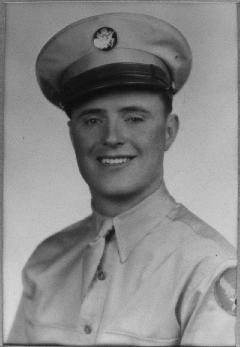 Photo (84KB)
Frank Dugan's military portrait
Photo (68KB)
Frank Dugan (Front, Left) with his B-25 outfit in South Pacific during WW II.

Frank narrowly escaped death in WWII when most of his original crew was killed while heading for leave in what is still the 2nd worse air crash in Australia history. He had stopped to visit Wayne on the other side of New Guinea before proceeding and didn't take the same flight.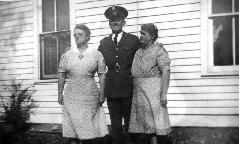 Photo (60KB)
Wayne Dugan home on leave while in service in WW II --- with Aunt Mary Offord McCormick and mother Mabel Offord Dugan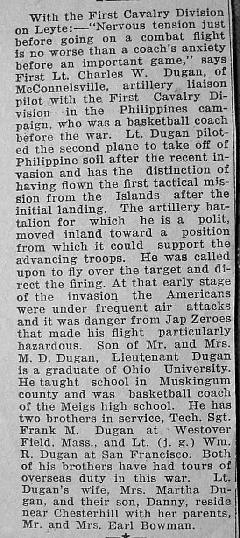 Photo (186KB)
Morgan Co. Herald Clipping of Wayne Dugan's adventures over Manila.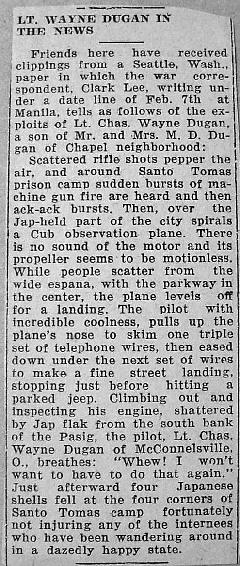 Photo (217KB)
Another news clipping about Wayne over Manila.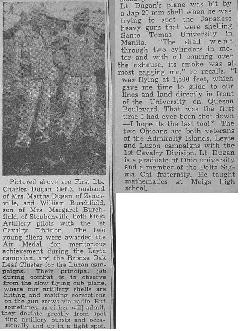 Photo (179KB)
Larger news clipping about Wayne Dugan's exploits over Manila with photo of Wayne and William Burchfield.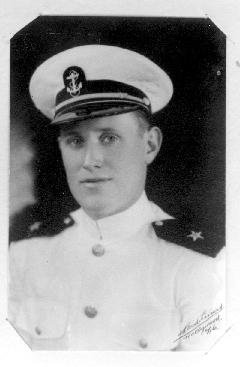 Photo (105KB)
Bill's Navy photo. Bill died in an airplane accident on Guam Island one week after the Japanese surrender. All three sons of Mabel and Darl served and survived the official hostilities. He is memorialized on the wall in the Punch Bowl in Honolulu as well as on the back side of the tombstone for Mabel and Darl in McConnelsville cem.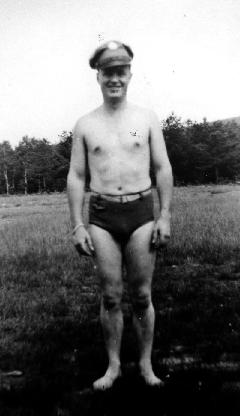 Photo (92KB)
Frank Dugan getting ready for a swim (while in the service?)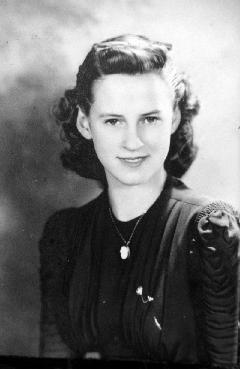 Photo (97KB)
Dorothy Dugan high school graduation photo.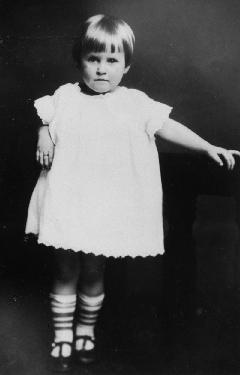 Photo (65KB)
Dorothy Dugan circa 1926 or 1927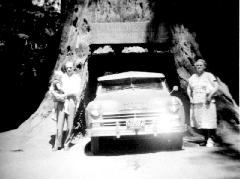 Photo (52KB)
1948 trip to California to see Wayne's. Landon Long holding John; Mabel.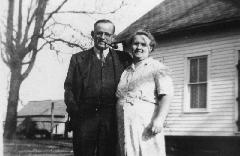 Photo (52KB)
Darl with his every-present pipe and Mabel. Year would have been about 1950.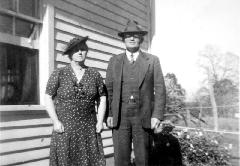 Photo (58KB)
Mabel and Darl Dugan. Where's the pipe?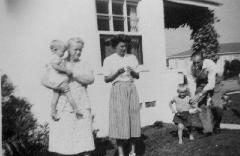 Photo (46KB)
At Wayne's in 1948. Mabel holding Bob; Martha Bowman Dugan; Landon chasing after John.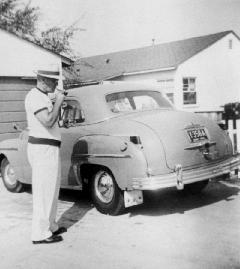 Photo (73KB)
Darl Dugan lighting his ever-present pipe while visiting Wayne's in California in 1948.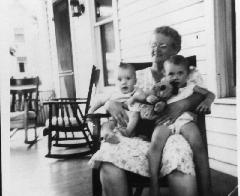 Photo (57KB)
Mabel Offord Dugan holding grandchildren Jim and Karen Dugan on the porch at Malta house about 1950.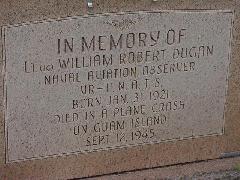 Photo (64KB)
Memorial to Bill Dugan on the reverse side of the headstone of Mabel and Darl Dugan gravesite in McConnelsville Cemetery.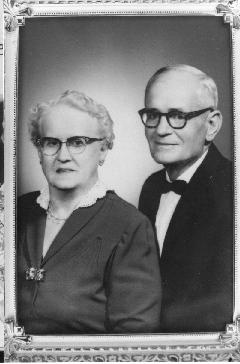 Photo (106KB)
Mabel and Darl Dugan, 1963, shortly before his death from cancer a couple of weeks after the assassination of JFK. Mabel died 10 years later of heart failure.
---
Growing up in the 1920's and 1930's

Photo (35KB)
Harmony Hill school photos. Wayne Dugan, Gene McCormick. Is that Bill Dugan on the right?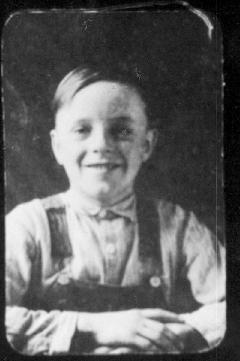 Photo (99KB)
Frank Dugan, Harmony Hill School photo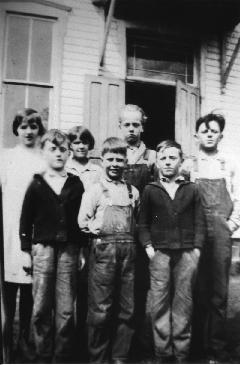 Photo (94KB)
Harmony Hill school. Wayne Dugan 1st row left; Frank Dugan 1st row right. Cousin Don McCormick behind him.
---
The Broedels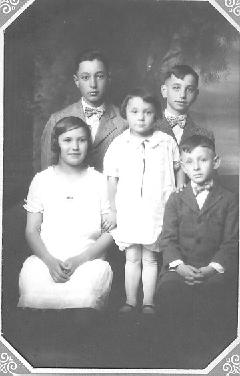 Photo (34KB)
Family portrait of the Broedels. Margaret, who later married Frank Dugan, is on the left. Next are Eleanor and Ralph (who was a Navy pilot and was kiiled in WW II). In the back row is Elmer and Howard. All have now passed on.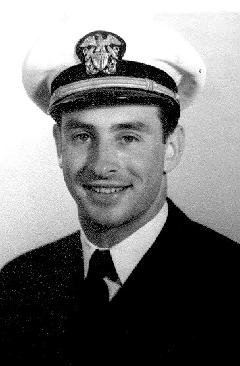 Photo (41KB)
Ralph Broedel's (Margaret Dugan's brother) Navy portrait. Ralph was killed when the engine on his plane failed upon takeoff from an aircraft carrier in June 1944. This was a double hit for the family as Margaret's father John died of the consequences of pneumonia one month earlier. The disease was contracted while moving the family from Meigs Creek, Bristol Twp to a farm North of McConnelsville on the river. The Clevite (Miba) plant and the Ace Hi Drive-in were on property that was part of the farm.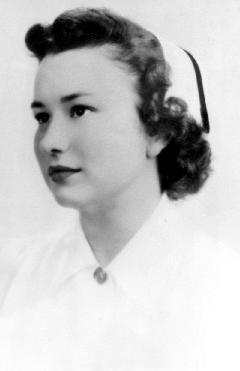 Photo (67KB)
Margaret Broedel, R.N. -- prior to marrying Frank Dugan.
---
Frank and Margaret Dugan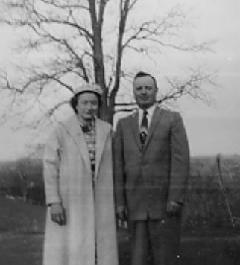 Photo (15KB)
Frank and Margaret Dugan dressed up for Easter 1957 -- at the farm.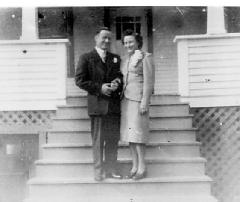 Photo (31KB)
One of two photos snapped at Frank and Margaret's wedding in 1947 at the house where her step mother Olive Broedel lived. Margaret had been living in Columbus where she worked as a nurse.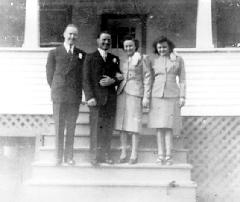 Photo (32KB)
Photo 2 from Frank and Margaret Dugan wedding: With witnesses (?Creatis Shira or Landon Long? and Eleanor Broedel Shira, sister of the bride.)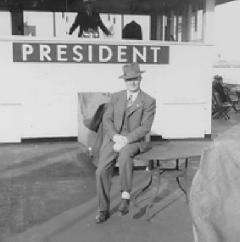 Photo (18KB)
Frank Dugan On Honeymoon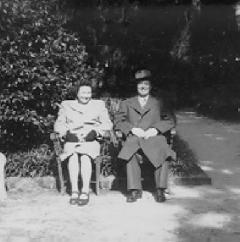 Photo (24KB)
Margaret and Frank on honemoon in New Orleans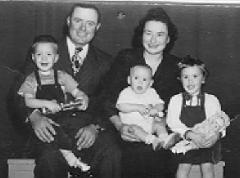 Photo (17KB)
Frank and Margaret with children Jim, Roger, and Karen. Likely about Christmas 1950.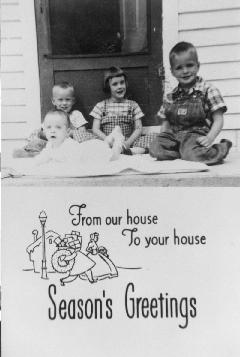 Photo (88KB)
1952. Baby is Tom. Roger, Karen and Jim Dugan on the step in from of the house on the McConnelsville farmhouse originally built by Alexander Offord.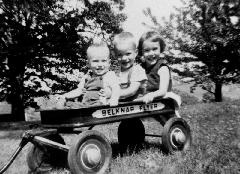 Photo (81KB)
Roger, Jim and Karen Dugan take a spin in the Belknap Flyer. Probably 1951.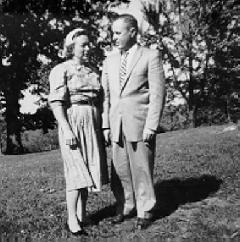 Photo (37KB)
Frank and Margaret Dugan. Portrait in front yard in 1959. Probably Easter. That's when we took pictures.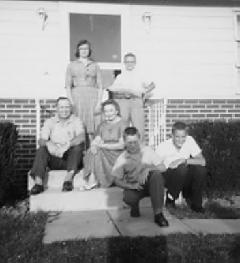 Photo (19KB)
Frank Dugan family visiting in Palatine, IL at the Shira's (Margaret's sister Eleanor's place) in 1962. Karen and Roger in background. Tom and Jim in foreground.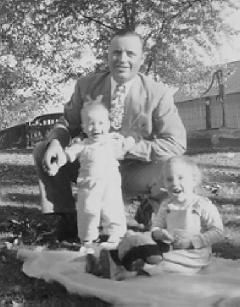 Photo (36KB)
Frank Dugan with Jim and Karen. Probably 1950.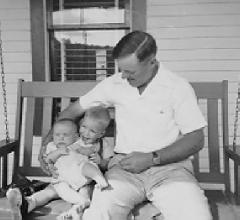 Photo (20KB)
Jim trying to hold brother Roger.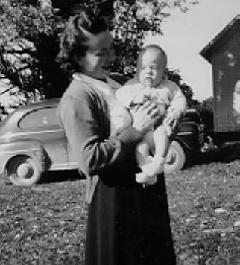 Photo (25KB)
Roger Dugan with Margaret.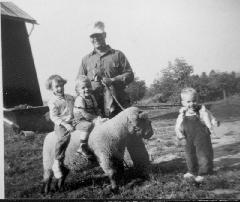 Photo (63KB)
Riding the ram in 1952. Karen and Jim on the ram with the reins held by Frank Dugan. Roger on the ground observiing.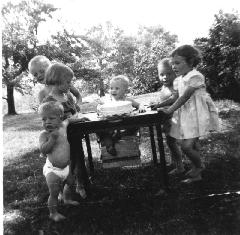 Photo (88KB)
The crowd at Roger's first birthday in 1951. On the left: John, Cheryl, and Larry Long. On the right: Jim and Karen. Also, in attendance at this family occassion was Aunt Emmie -- Emma Offord McLucas who came up to Roger while he was trapped in this contraption and pinched his cheek, which gave him a fear of Aunt Emmie that he never got over. Emmie died about 1958.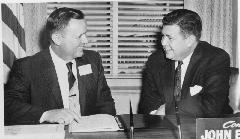 Photo (54KB)
Frank Dugan made a trip to Washington to meet with our congressman John E Henderson. Late 1950's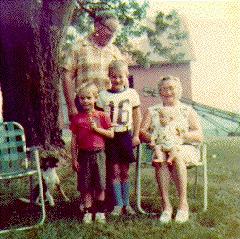 Photo (97KB)
Frank and Margaret Dugan with grandchildren Steve and Jim Kinney, Kathy Dugan on Margaret's lap. Summer 1974.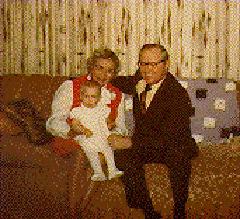 Photo (42KB)
With Kathy Dugan, first granddaughter, 1974.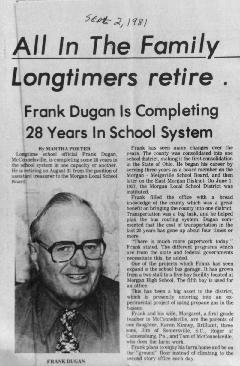 Photo (142KB)
Frank Dugan's retirement announced.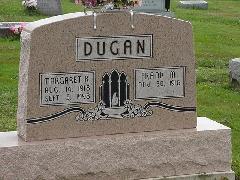 Photo (70KB)
Photo of Frank and Margaret's headstone taken about 1999 after her death. The "K" stood for Katherine. Margaret said she was named after her two grandmothers: Margaret Stophel Broedel and "Cassie" Hastings Whitehouse. "Cassie" was believed to be a nickname for Catherine. There was a Catherine Hastings who married a Conn, but we have been told after Margaret's death that Cassie was actually Cassandtra Mary Hastings.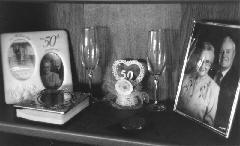 Photo (49KB)
Frank and Margaret's 50th wedding anniversary tokens. Margaret died 18 months later.
---
Wayne and Martha Dugan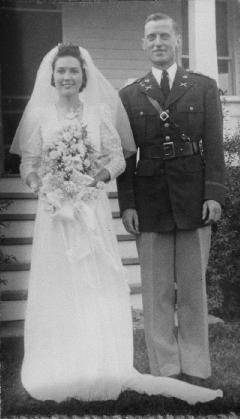 Photo (106KB)
Wedding portrait of Wayne Dugan and Martha Bowman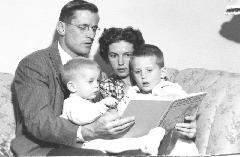 Photo (52KB)
Wayne and Martha Dugan with Bob and Dan (1948?).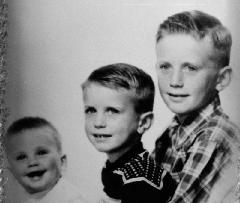 Photo (56KB)
Craig, Bob, and Dan Dugan about 1952.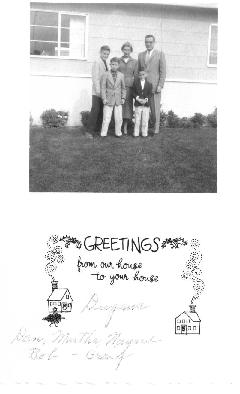 Photo (90KB)
Wayne Dugan family portrait -- late 1950's.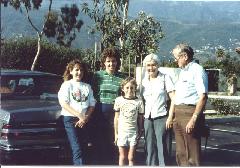 Photo (80KB)
East and west Dugans meet in 1986 in California. Meighan Dugan (now Zimmerman), Peggy Wagner Dugan (Roger's wife), Josh Dugan, Martha, and Wayne. Peggy and Roger lived in Canonsburg, PA at the time.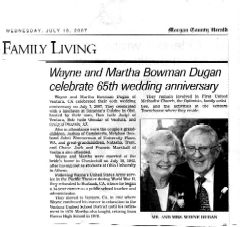 Photo (94 KB)
Wayne and Martha Dugan 65th Anniversary Article. 2007.
---
Homer and Mary McCormick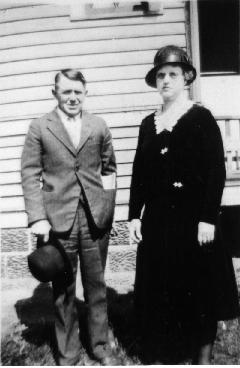 Photo (91KB)
Homer and Mary Offord McCormick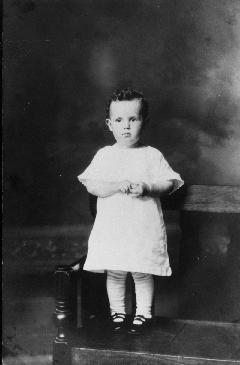 Photo (85KB)
Donald Francis McCormick about 1914-15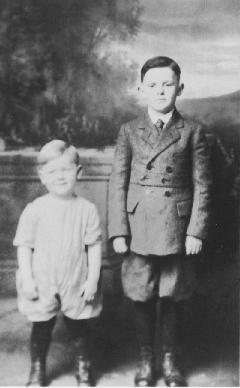 Photo (90KB)
Gene and Don McCormick about 1920.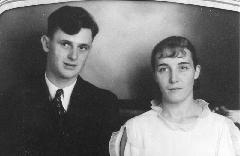 Photo (45KB)
Don and Marguerite Spencer McCormick wedding photo.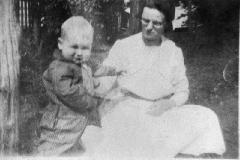 Photo (53KB)
Gene and Mary McCormick about 1919.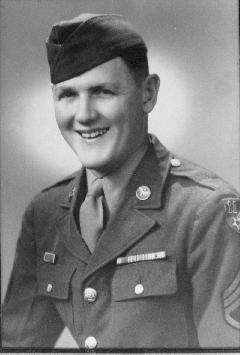 Photo (101KB)
Gene McCormick - WW II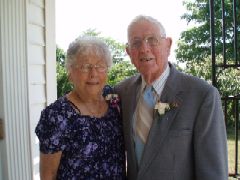 Photo (94 KB)
Gene and Margaret McCormick 62nd Wedding Anniversary Photo. 2007.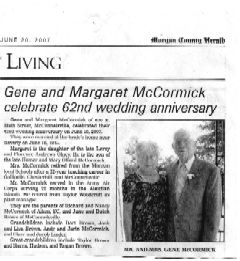 Photo (140 KB)
Gene and Margaret McCormick 62nd Wedding Anniversary Article. 2007.
---
Some Group Photos
Photo (68KB)
Gathering at Harmony Hill School. Front left is Homer and Mary Offord McCormick with Gene and Don. Next in front is Mabel Offord Dugan with Frank. Probably about 1920.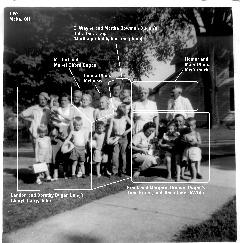 Photo (101KB)
1952 Group photo at MD Dugan home in Malta. Cheryl Long, John Long, Bob Dugan, Dan Dugan adjusting belt, Margaret Dugan holding Tom, Frank Dugan holding Karen and Jim. 2nd row: Landon Long, Dorothy Long holding Larry, Mabel Offord Dugan, Emma Offord McLucas (youngest child of Alexander and Hannah), Mary Offord McCormick, Homer McCormick. Back Row: MD Dugan behind Mabel, Wayne Dugan holding Craig. Roger Dugan was hiding because Aunt Emmie was there and was a known "cheek pincher". Martha Dugan was likely the photographer since she was missing from the photo.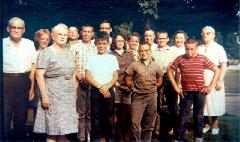 Photo (67KB)
1963 recreation of the 1952 photo. At this time, MD Dugan was dying of cancer. Front row: Mabel, Craig, Larry, Tom (with attitude). 2nd row: MD, Cheryl, Bob, Karen, Roger; Back Row: Jim, Wayne, Dorothy, Frank, Margaret, Mary Offord McCormick.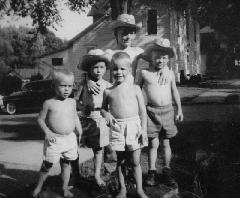 Photo (71KB)
Roger and Jim Dugan in front. Dan Dugan in back with arms around Bob (left) and John Long (right). Taken in Malta. Yerian house in background. Year: 1952 or 1953?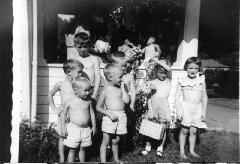 Photo (60KB)
Another photo from 1952 gathering. Roger Dugan in front. Next row: Bob and Jim; Back row: Dan, John, Cheryl, Karen. Larry and Craig were on the porch rail.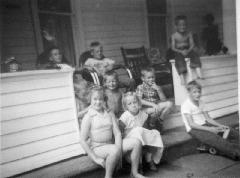 Photo (51KB)
Dugan-Long bunch on the porch at the MD Dugan house about 1957 or 1958. Karen and Cheryl in front. Jim to the right. Next row appears to be Tom, Larry, and Roger. Craig is on the rail. The big guys in the chairs are Bob and John. Not sure where Dan was.
---
SMITH COUSINS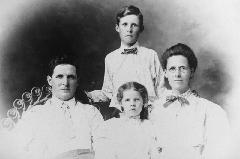 Photo (43KB)
Wood Smith family. Charles Wood Smith and Maude Dickinson Smith. Boy is Ray G. Smith. Wood Smith was Adda Smith Offord's brother.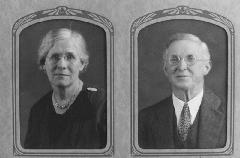 Photo (48KB)
Maude and Wood Smith later in life.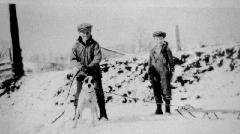 Photo (43KB)
Cousins Lloyd Smith and Homer Smith
---
OFFORD COUSINS
---
The Devols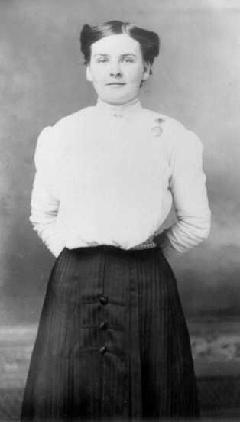 Photo (9KB)
Dessie Devol - daughter of Ida Offord Devol (dau of Alex and Hannah). Married Fred Roberts. Cousin of Mary and Mabel Offord.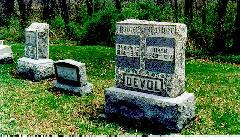 Photo (35KB)
Devol headstone at Wesley Chapel. In the same row as the Offords.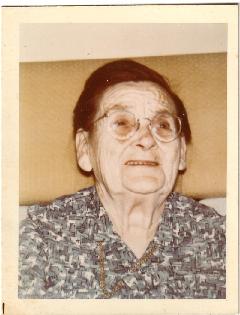 Photo (85KB)
Dessie Devol Roberts later in life about 1980.
---
Fouts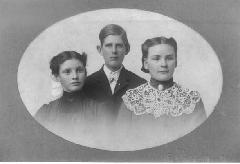 Photo (15KB)
Jennie Fouts (dau of Ella Offord Fouts) and her cousins Bernard and Dessie Devol.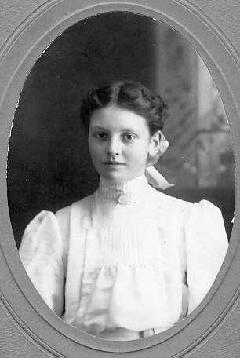 Photo (14KB)
Jenny Fouts (Lee). dau of Ella Offord Fouts. Richad and Ella married in Ohio and made their way to Villard, MN via Illinois. Jenny was cousin of Mabel, Mary, Dessie, Bernard, et. al.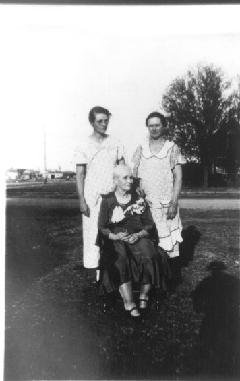 Photo (25KB)
Ella Offord Fout in the 1940's with her two surviving daughters Hazel Remington and Jennie Lee. This was taken in Villard, MN.
---
McLucas/Root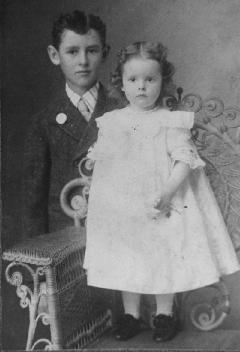 Photo (89KB)
Katherine McLucas (later Root) with unknown boy. Katherine was the daughter of Emma Offord McLucas, youngest child of Alex and Hannah Offord.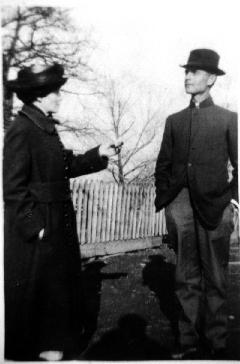 Photo (88KB)
Emma Offord McLucas and Arthur McLucas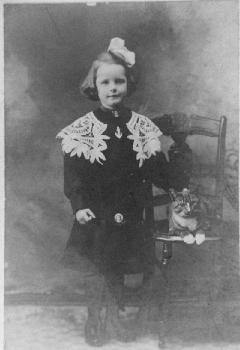 Photo (92KB)
Another photo of Katherine McLucas
---
The Richardsons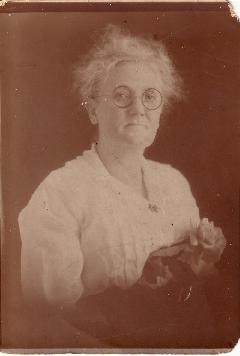 Photo (72KB)
Anna May Offord Richardson, dau of Alexander and Hannah. Married to Amos Brady Richardson, a merchant in McConnelsville.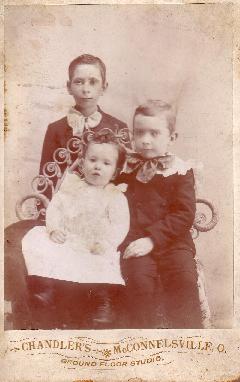 Photo (121KB)
Chester, Offord, and Nellie Richardson. About 1900-01
Photo (126KB)
The Amos and Anna Offord Richardson Family. Nellie (Jones) and Lucille (Stratton). Harold, Chester, and Offord. About 1907-8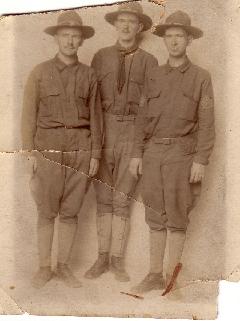 Photo (95KB)
Harold, Offord, and Chester Richardson in WW I military uniforms. Chester was kiiled in action in 1918. For many years, the extended Offord clan would gather at the marker for Chester in McConnelsville Cem on either Memorial Day or Armistice Day.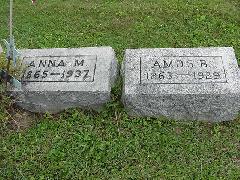 Photo (95KB)
Markers for Anna Offord Richardson and Amos Richardson in McConnelsville Cem.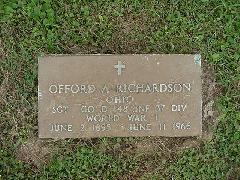 Photo (90KB)
Offord Richardson marker in McConnelsville Cem. The "A." is for Alexander. So he was a namesake for his grandfather. Since there weren't but two boys in Alex and Hannah's family -- and Frank had only 3 daughters -- there was no one left in Morgan Co. to carry on the Offord name. This is one case where family members were given the Offord name as a first or middle name. Others are Gene Offord McCormick and Andrew Offord McCormick (Gene's grandson).
---
Wesley Chapel Cem.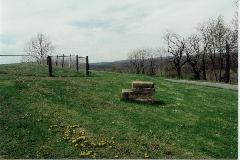 Photo (72KB)
This step was provided at Wesley Chapel to assist women (and probably some men, too) in mounting their horses after services. The old chain link fence was supposedly erected by Frank Offord about 1930. Was replaced in 2006.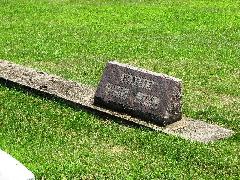 Photo (195KB)
Fred and Dessie Devol Roberts marker at Wesley Chapel Cem. Note sheep footprints on concrete footer. Frank Dugan's sheep got out while the concrete was still wet.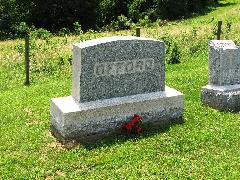 Photo (171KB)
Frank Dugan continues to decorate the grave of his grandparents, Frank and Adda Offord.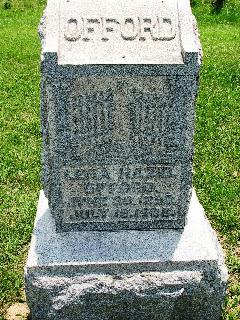 Photo (316KB)
Lena Hazel was killed by lightning at age 15 while putting the horses away after a day of working in the hay fields.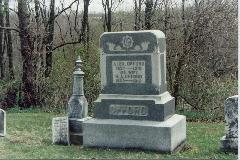 Photo (95KB)
Alexander and Hannah Offord's headstone in Wesley Chapel Cemetery.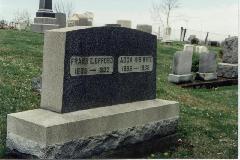 Photo (67KB)
Frank and Adda Offord's tombstone in Wesley Chapel cemetery. The hillside here is prone to shifting with freeze-thaw cycles. Many stones are leaning ... except the Offords. They had their footers reportedly poured to the bottom of the grave to prevent tipping.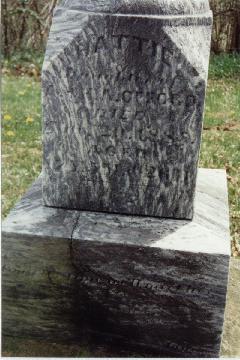 Photo (144KB)
Hattie Offord died just shy of 20 years in 1888. Many families buired children in Wesley Chapel cem that year. There was a bad blizzard in March of that year, but likely cause was an outbreak of influenza or diptheria .